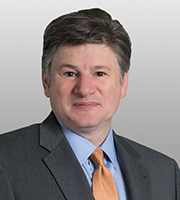 Michael Fanelli helps the firm's clients navigate the risks of global cartel and other civil antitrust and criminal investigations. The vast majority of the companies and individuals that he has defended have faced no adverse governmental actions. He delivers value by providing advice that enables the firm's clients to understand their options and make the best choice in light of their legal risks and business interests.
Mr. Fanelli also advises clients on the formation and operation of joint ventures, competitor collaborations, and strategic alliances. While in government service, Mr. Fanelli assisted in drafting the FTC & DOJ Competitor Collaboration Guidelines.
Mr. Fanelli also defends clients in private class action cartel litigation and other civil antitrust litigation. He recently has achieved notable early dismissals of his clients in the sprawling In re Automotive Parts Antitrust Litigation, 2013 U.S. Dist. LEXIS 80337 (2013) and with respect to novel resale price maintenance claims brought in federal court under New York's Donnelly Act. Worldhomecenter.com, Inc. v. KWC America, Inc., 2011 U.S. Dist. LEXIS 104496 (2011).
Drawing upon nearly twenty years of private practice and governmental experience, he also counsels clients on all aspects of global antitrust compliance.
Mr. Fanelli also has expertise in other governmental criminal investigations and internal, audit committee, and special litigation committee investigations involving a range of legal issues.
Mr. Fanelli has been a leader within the antitrust bar for over a decade and is currently a Co-Chair of the ABA Antitrust Section's Joint Conduct Committee, which focuses on U.S. and international joint venture, cartel, and distribution issues. He previously served as the Editorial Chair of the two-volume ABA Antitrust Section treatise Competition Laws Outside the United States (2011), and has been one of the leaders of the Section's International Committee and Cartel and Criminal Practice Committee. He also is a former member of the ABA International Cartel Task Force.