Our Website Uses Cookies
We and the third parties that provide content, functionality, or business services on our website may use cookies to collect information about your browsing activities in order to provide you with more relevant content and promotional materials, on and off the website, and help us understand your interests and improve the website.
For more information, please contact us or consult our Privacy Notice.
Your binder contains too many pages, the maximum is 40.
We are unable to add this page to your binder, please try again later.
This page has been added to your binder.
Dr. Ulrike Elteste
Associate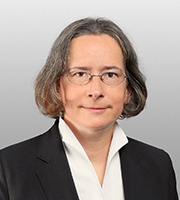 Ulrike Elteste is an experienced technology, media and intellectual property lawyer in the firm's Frankfurt office. She also advises on related regulatory aspects, in particular, privacy law, financial services supervisory law, and telecommunications law. She is regularly involved in cross-border transactions with a focus on technology or IP. Dr. Elteste also represents clients in commercial and IP litigation.
Technology Transactions
Advised on patent ownership and implications of the German Act on Employee Inventions in transaction in the Life Sciences sector.
Carried out commercial, IP and regulatory due diligence in transaction involving a software manufacturer.
Carried out commercial, IP and regulatory due diligence in transaction involving an online insurance broker.
Involved in drafting and negotiating agreements regarding the global outsourcing of certain IT services for a group of companies headquartered in Germany, and in advising on privacy law aspects of such outsourcing.
Revised terms and conditions of a cashless payment systems provider for merchants accepting credit cards.
Represented software manufacturer in commercial dispute with service provider regarding termination of a cooperation agreement and claims for compensation under agency law.
Regulatory
Advised a group in the real estate sector on the implementation of the GDPR (assessment of data processing activities, drafting of internal documentation, revision of data processing agreements with third parties).
Involved in advising a provider of creditworthiness checks for online merchants on privacy law requirements.
Advised internet platform provider on aspects of the German Payment Services Act.
Advised provider of an innovative financial service on aspects of the German Banking Act.
Media and E-Commerce
Advised service provider on regulatory restrictions and unfair competition law regarding online advertising via smart TVs.
Advised operator of online store on information obligations and unfair competition (advertising) rules.
Advised provider of online service on geoblocking rules.
Product Stewardship
Involved in advising a company in the Life Sciences sector on regulatory requirements in connection with innovative treatments.
Involved in advising the manufacturer of a product subject to regulations for electronics and chemicals on product stewardship rules.
Memberships and Affiliations
Member of the Licensing Executive Society (LES) - Deutsche Landesgruppe e.V.
Member of DAVIT (Practice group information technology law in the German lawyers' association)
Member of DGRI (German Society for the Law of Informatics)
Best Lawyers in Germany, Intellectual Property (2020)
Education
University of Hanover, Ph.D.
University of Hanover
University of Paris La Sorbonne
French Language and Culture