John L. Ellicott
Senior Counsel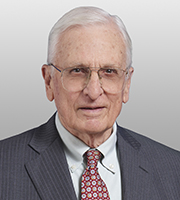 John Ellicott has been a lawyer in the firm for more than 50 years. He was elected to two terms on the firm's Management Committee and served as Chairman of that committee for five years, during which the firm opened its first two foreign offices.
Mr. Ellicott first practiced communications law, then federal tax law, corporate law and later international business law, specializing in U.S. government export regulation, including export controls and economic sanctions. He served on the Council of the International Law Section of the American Bar Association and was the author of a resolution adopted by the ABA House of Delegates on extraterritorial export controls, urging that such controls be imposed on a multilateral basis rather than unilaterally by the United States.

For the late Avery Fisher of New York City, the founder of high fidelity equipment, Mr. Ellicott negotiated the sale of Fisher Radio to Emerson Electric Company and later advised Mr. Fisher on a major gift of stock to the Lincoln Center for whom its concert hall was renamed.