Your binder contains too many pages, the maximum is 40.
We are unable to add this page to your binder, please try again later.
This page has been added to your binder.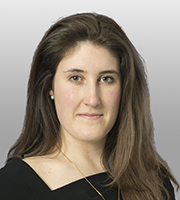 Hannah Edmonds is an associate in the employment team, having joined the firm in 2013 as a trainee solicitor.
Ms. Edmonds advises on a range of both international and domestic issues including employment aspects of global transactions, drafting and implementation of employment and human rights policies, contentious employment matters, and compliance with international supply chain labour standards (including reporting under the U.K. Modern Slavery Act and similar legislation).
Ms. Edmonds gained valuable experience while on secondment to a large pharmaceutical client, where she worked on employment disputes, large contractual projects in the healthcare and sector and supply and distribution, and life science regulatory matters.
She is a member of the firm's Africa Initiative, assisting clients doing business on the continent.
Acting for Microsoft Corporation, assisting with global employment law aspects of its acquisition of Nokia's devices and services business, involving employees across 60 countries.

Assisting clients with the implementation of human rights initiatives, including the drafting of transparency statements for the purposes of the U.K. Modern Slavery Act, the conduct of benchmarking and comparative analysis and human rights risk due diligence.

Assisting a client in responding to the leaking of highly confidential information and trade secrets to a competitor.

Assisting with global employment law aspects of a large pharmaceutical company's acquisition of a competitor's franchise, involving the transfer of employees across 40 countries.
Advising undocumented minors on UK immigration matters on behalf of client, Kids in Need of Defence.
Establishing a legal aid clinic at the University of The Gambia.
Advising the Public International Law and Policy Group on juvenile measures in Kosovo.
Advises GrowTH (a night shelter in East London) on an array of matters including refugee and asylum cases and employment/ Modern Slavery Act matters.
Memberships and Affiliations
Employment Lawyers' Association
Secondment to the in-house legal department of a global pharmaceutical company.
Lectured in international law at the University of The Gambia.