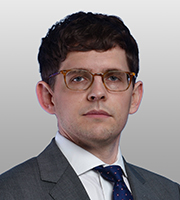 Burr Eckstut advises clients on transactions involving intellectual property, technology, and data, including the negotiation of agreements for strategic alliances, joint ventures, acquisitions, licensing, technology services, and outsourcing.
Mr. Eckstut is co-chair of Covington's Fintech Initiative and has particular expertise with technology and data partnerships in the financial services industry, including payment cards and systems, cryptoassets, blockchain technology, market and reference data, digital banking, and financial analytics. Mr. Eckstut is also the Corporate lead for Covington's Futures and Derivatives practice, drawing on experience in transactions involving trading platforms and exchanges, benchmarks, clearinghouses, and other critical elements of financial markets.
In addition, Mr. Eckstut often advises clients across a variety of industries on data licensing, developing data analytics, and forming data-oriented commercial partnerships.