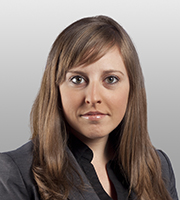 Claire Catalano Dean is a litigator who represents a variety of clients in high-stakes commercial litigation and product liability matters.
Ms. Dean has experience in several stages of litigation, including case initiation, dispositive motions, discovery, hearings and appeals. She has represented clients during large-scale electronic discovery and depositions on rapid schedules. She has experience briefing dispositive motions and arguing an Article 78 petition. Ms. Dean has developed an expertise in the procedural intricacies of filing in New York federal and state court.
Ms. Dean is a member of the Bar of New York. District of Columbia bar application is pending; supervised by principals of the firm.