William W. Chip
Senior Counsel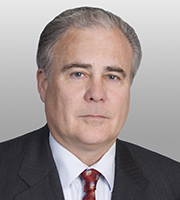 Bill Chip advises and represents the owners and executives of emerging and established multinational enterprises in the design, execution, and defense of their global tax strategies. As a long-serving member of the OECD's Business and Industry Advisory Committee (BIAC), Mr. Chip has been an active participant in the ongoing Base Erosion and Profit Shifting (BEPS) process that is reshaping the global tax planning landscape.

Mr. Chip's clients are headquartered in the United States, the European Union, Asia, and Latin America and include companies in the financial services, life sciences, energy, and commodities industries.
A leading transfer pricing practitioner, Mr. Chip regularly manages global transfer pricing projects that cover planning, documentation, audit defense, and negotiation of Advance Pricing Agreements. With over 30 years of tax controversy experience, he has achieved favorable settlements of some of his client's most difficult international tax controversies with the IRS at the examination and appeals level and in Competent Authority proceedings. He pioneered the use of Pre-Filing Agreements to settle complex tax treaty issues.
Prior to entering law school, Mr. Chip served as an officer in the U.S. Marine Corps, attaining the rank of Captain.