Our Website Uses Cookies
We and the third parties that provide content, functionality, or business services on our website may use cookies to collect information about your browsing activities in order to provide you with more relevant content and promotional materials, on and off the website, and help us understand your interests and improve the website.
For more information, please contact us or consult our Privacy Notice.
Your binder contains too many pages, the maximum is 40.
We are unable to add this page to your binder, please try again later.
This page has been added to your binder.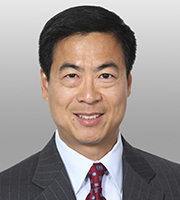 Shaoyu "Andrew" Chen is a partner in the firm's Food and Drug Practice Group, and the managing director of its China Food and Drug Practice, based in the firm's Beijing and Shanghai offices. Mr. Chen has over a decade of experience in food and drug law, including serving in the government and the industry:
U.S. Food and Drug Administration (2000-2004), as Assistant Chief Counsel, based in Rockville, Maryland;
Amgen (2006-2010), as Senior Counsel, based in Thousand Oaks, California; and
GE Healthcare China (2010-2011), as Chief Compliance Counsel, based in Beijing, China.
Leveraging these hands-on government and industry experiences, Mr. Chen effectively assists multinational and Chinese pharmaceutical, biotechnology, medical device, food, and cosmetic companies and trade associations to address the most pressing regulatory law issues confronting business.
Mr. Chen has the privilege to represent virtually all industry leaders, as well as many start-up or mid-size firms, on a full range of matters regulated by the U.S. FDA and China FDA (CFDA, formerly SFDA), including the following:
Identified the most efficient regulatory pathways and implementation strategies to enter the Chinese market;
Advised on product research and development in China, including regulatory submissions and oversight ethics committee review, clinical trial agreements, investigator meetings, informed consent, and subject injury compensation;
Assisted in obtaining product registration, and manufacturing authorizations, including seeking expedited review, and facilitating regulatory negotiations;
Advised on data and IP protection and marketing exclusivities in China, particularly those related to China's new drug monitoring period, to prevent imported drugs from being excluded from the Chinese market;
Counseled on the pros and cons of importation versus local manufacturing, focusing on technology transfer, licensing, co-development, and country of origin issues;
Assisted on commercialization efforts, including advertising and promotion, wholesale and retail distribution, and pricing and reimbursement;
Assisted companies undergoing and responding to regulatory inspections on GLP, GCP, GMP, and GSP compliance; and
Advised on anti-corruption and anti-unfair competition issues.