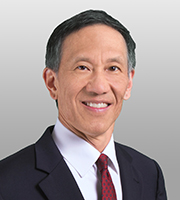 Peter Chen is a partner in Covington's Palo Alto office specializing in intellectual property litigation, and is co-head of the firm's Patent Office Trials group focusing on America Invents Act (AIA) trials before the Patent Trial and Appeal Board (PTAB) at the U.S. Patent and Trademark Office (USPTO). He has successfully represented PTAB petitioners through final written decision, and patent owners in denials of institution, and has advised clients on PTAB strategy and policy issues.
During 2015-2017, Mr. Chen was a Lead APJ and as a member of PTAB's management team, he assisted three successive Chief Judges in formulating and executing PTAB policy involving AIA trial procedures and Board operations. He also supervised a team of APJs, and assisted the Regional Director in policy and operations matters for the USPTO's West Coast Regional Office. Mr. Chen is among the only former Lead APJs in private practice, and provides clients with a uniquely valuable perspective from his experience in presiding over AIA trials and in devising PTAB policy.
Prior to his service at the PTAB, Mr. Chen was a first-chair intellectual property litigator and partner at three international law firms, and also served as general counsel and intellectual property counsel in-house, at startup and publicly traded technology companies in Silicon Valley. He has litigated over 75 patent cases, 25 trade secrets misappropriation cases, and numerous cases involving copyrights, trademarks, and unfair competition, in federal and state courts and the International Trade Commission, for high technology and life sciences companies.
Mr. Chen is a registered patent attorney and is a named co-inventor on two U.S. Patents Nos. 8,468,050 and 8,843,392.