Our Website Uses Cookies
We and the third parties that provide content, functionality, or business services on our website may use cookies to collect information about your browsing activities in order to provide you with more relevant content and promotional materials, on and off the website, and help us understand your interests and improve the website.
For more information, please contact us or consult our Privacy Notice.
Your binder contains too many pages, the maximum is 40.
We are unable to add this page to your binder, please try again later.
This page has been added to your binder.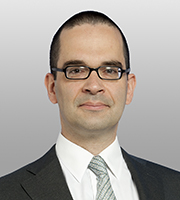 Peter D. Camesasca is a partner in the Covington's Brussels and London offices, with broad experience in all major aspects of EU and national competition law.
Dr. Camesasca specializes in complex competitor interactions, advising on M&A and JV activities (specialization, R&D, joint development, etc.), as well as various informal types of competitor cooperation. He counsels clients on Article 101 exposure ranging from pure information exchanges to cartel-like allegations, having represented or still representing clients in the majority of the European Commission's recent cartel investigations, including Heat Stabilizers, DRAM, SRAM, Calcium Carbide, Air Cargo, Freight Forwarders, TFT-LCD (1&2), Smart Cards, Power Cables, Car Parts, Liner Shipping, Capacitors, and various still confidential matters. Dr. Camesasca also coordinates the defenses in numerous related damages claims before national courts.
Dr. Camesasca further specializes in the antitrust angle in IP-related matters, in particular the issues raised by standardization, standard-essential patents, injunctions, the approach vis-à-vis non-practicing entities, etc. During a two-year stint as special counsel to Samsung Electronics, Dr. Camesasca was materially responsible for handling the EU investigation which resulted in a path-breaking settlement covering the availability of injunctions, with no finding of wrongdoing by Samsung Electronics.
Dr. Camesasca has acted before the European Commission, the European courts, the German Bundeskartellamt, the UK Office of Fair Trading, the Belgian Competition Council, and various national courts.
In Chambers, he is noted for his "keen attention to detail and effective representation of clients' interests," as being "very hands-on, fast and responsive" and "very forthright in stating his opinion and he is well connected in DG Comp." Chambers further notes his experience in Korea, with sources stating that he is one of the "first-choice competition lawyers to clients in Korea." GCR records that Dr. Camesasca is "the top choice for all technology-related competition law issues," that he receives praise as "a very approachable practitioner with great communication skills," and is particularly "experienced handling merger control and cartel cases." He is regularly listed in the leading rankings.
Representing Samsung Electronics in the EU settlement relating to the enforcement by Samsung of standard essential patents ("SEPs") in connection with the 3G standard used in smartphones and tablets. The EU settlement closed the investigation against Samsung without a finding of infringement or fine levied against Samsung.
Samsung Electronics in the EU investigation into TFT-LCD (1&2). Lead counsel to Samsung Electronics concerning all aspects of the European investigation into alleged collusion in TFT-LCD.
Representing Samsung Electronics in the Smart Card Chips cartel investigation in the EU.
Representing Samsung Electronics relating to various civil follow on claims.
Representing Hapag-Lloyd and United Arab Shipping Company regarding the Container Shipping investigation in the EU.
Representing a half dozen liner shipping carriers regarding various aspects of EU competition law (covering alliances and cooperation type agreements).
Representing World Liner Data and Container Trade Statistics regarding all EU aspects of their data gathering/dissemination activities.
Representing Samsung Electronics relating to various distribution related matters (EU and national).
Representing Samsung Electronics relating to various IP related matters (EU and national).
Representing Samsung Electronics relating to various transactional matters in the EU.
Representing a major U.S. freight forwarder in the European Commission's investigation into alleged collusion in Freight Forwarding.
Samsung Electronics in the European investigation into DRAM. Served as lead counsel to Samsung Electronics, concerning all aspects of the EU investigation into alleged collusion in DRAM (settled as part of the first settlement under EU competition law, 2010).
Truvo Netherlands/European Directories. Lead counsel to Truvo (formerly known as World Directories), a major provider of directory services worldwide and publisher of the Gouden Gids (Yellow Pages) in the Netherlands, in the merger with European Directories. In a 2-to-1 merger, the Dutch Competition Authority provided clearance without remedies, based on detailed economic assessment (cleared 2008 and prevailed in subsequent appeals).
European Liner Affairs Association, grouping the world's 21 leading liner shipping companies, in the EU Review of the Conference Block Exemption and the Consortia Block Exemption (2003-2009). Following abolition of the aforementioned Conference Block Exemption after an unprecedented five-year regulatory review, achieved a replacement regime in the form of the EC Maritime Guidelines, which formed the basis for the information exchange aspects subsequently covered in the EC Horizontal Guidelines.
Honeywell v. Commission and GE v. Commission. Acted as counsel to Rockwell Collins, a major avionics manufacturer, concerning its interventions in the landmark appeals before the European General Court against the European Commission's GE/Honeywell decision, in what is generally considered a turning point in EC merger control. Supported the Commission's position in both cases and won (2005).
JUVE, Brussels (2015-2016)
Global Competition Review, 40 Under 40 (2012)
Chambers Global, Competition/European Law (Belgium) (2011-2012, 2016-2019)
Chambers Europe, Competition/European Law (2017-2019)
Shortlisted for "Lawyer of the Year - Under 40" by GCR Awards 2011
Legal 500 EMEA, Competition: Belgium (2015-2017), Healthcare and Life Sciences (2017) and EU Regulatory - Information Technology (2015-2016)