Your binder contains too many pages, the maximum is 40.
We are unable to add this page to your binder, please try again later.
This page has been added to your binder.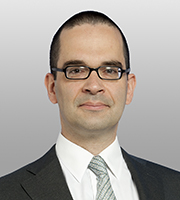 A Brussels and London based partner in the firm's antitrust group, Peter Camesasca has been practicing at the cutting edge of European competition law for 20 years, focusing on the interaction between competitors. This includes constructive M&A- and JV-type cooperation and related filings or self-assessments, as well as IP licensing and technology-sharing arrangements. Dr Camesasca's work also covers pre-emptive compliance and exposure management in trade associations, as well as handling criminal and administrative investigations into information exchanges, price signaling and cartels, as well as, increasingly, defending against private damages claims before national courts.
Dr. Camesasca has been involved in some of the game-changing precedents that have shaped and continue to develop European competition law, such as:
In M&A, Dr. Camesasca has acted for Rockwell Collins in the successful challenge of the proposed GE/Honeywell transaction concerning avionics, including before the European Courts (2004), which formed the precedent for the introduction of sophisticated economics into day-to-day EU merger control. Presently, Dr. Camesasca acts for a number of leading Asian conglomerates in their continuing expansion and structural re-organizations;
Since the introduction of self-assessment, Dr. Camesasca has been materially involved in the evolving landscape of alliances under Article 101 TFEU enabling efficient transport by air and by sea, representing leading European and U.S. carriers;
During a two-year stint as special counsel to Samsung Electronics, Dr. Camesasca was materially responsible for handling the EU investigation which resulted in a path-breaking settlement covering the availability of injunctions to holders of Standard Essential Patents (SEPs), with no finding of wrongdoing by Samsung Electronics;
Dr. Camesasca has achieved the first-ever settlement under the EU Settlement Notice in re DRAM (2010) and counseled in a range of settlement cases since; he acts in re Smart Card Chips (2014) which redefines the EU Commission's position vis-à-vis bilateral information exchanges; and he acts in re Liner Shipping (2016) which sets out the EU Commission's new approach to price signaling; and
Dr. Camesasca acts as lead counsel in re TFT-LCD (2010) which -- alike the U.S. compendium cases -- defines EU jurisdiction for cartel-like conduct outside of the EU, which is the subject of an ongoing challenge in re Iiyama (2016). More generally, Dr. Camesasca manages complex damages litigation defenses in close to a dozen pending matters across industries and venues.
Over the last several years, Dr. Camesasca's expertise advising Asian conglomerates has translated into a rise in demand for his advice in South Korea and Japan, among other jurisdictions.
Dr. Camesasca has acted before the EU Commission, the European courts, the German Bundeskartellamt, the Belgian Competition Council and various national courts including the UK and Germany.
He is noted for his "keen attention to detail and effective representation of clients' interests" in Chambers Global 2011, and as "very forthright in stating his opinion and he is well connected in DG Comp" in Chambers Global 2016.
Representing Samsung Electronics in the EU settlement relating to the enforcement by Samsung of standard essential patents ("SEPs") in connection with the 3G standard used in smartphones and tablets. The EU settlement closed the investigation against Samsung without a finding of infringement or fine levied against Samsung.
Samsung Electronics in the EU investigation into TFT-LCD (1&2). Lead counsel to Samsung Electronics concerning all aspects of the European investigation into alleged collusion in TFT-LCD.
Representing Samsung Electronics in the Smart Card Chips cartel investigation in the EU.
Representing Samsung Electronics relating to various civil follow on claims.
Representing Hapag-Lloyd and United Arab Shipping Company regarding the Container Shipping investigation in the EU.
Representing a half dozen liner shipping carriers regarding various aspects of EU competition law (covering alliances and cooperation type agreements).
Representing World Liner Data and Container Trade Statistics regarding all EU aspects of their data gathering/dissemination activities.
Representing Samsung Electronics relating to various distribution related matters (EU and national).
Representing Samsung Electronics relating to various IP related matters (EU and national).
Representing Samsung Electronics relating to various transactional matters in the EU.
Representing a major US freight forwarder in the European Commission's investigation into alleged collusion in Freight Forwarding.
Samsung Electronics in the European investigation into DRAM. Served as lead counsel to Samsung Electronics, concerning all aspects of the EU investigation into alleged collusion in DRAM (settled as part of the first settlement under EU competition law, 2010).
Truvo Netherlands/European Directories. Lead counsel to Truvo (formerly known as World Directories), a major provider of directory services worldwide and publisher of the Gouden Gids (Yellow Pages) in the Netherlands, in the merger with European Directories. In a 2-to-1 merger, the Dutch Competition Authority provided clearance without remedies, based on detailed economic assessment (cleared 2008 and prevailed in subsequent appeals).
European Liner Affairs Association, grouping the world's 21 leading liner shipping companies, in the EU Review of the Conference Block Exemption and the Consortia Block Exemption (2003-2009). Following abolition of the aforementioned Conference Block Exemption after an unprecedented five-year regulatory review, achieved a replacement regime in the form of the EC Maritime Guidelines, which formed the basis for the information exchange aspects subsequently covered in the EC Horizontal Guidelines.
Honeywell v. Commission and GE v. Commission. Acted as counsel to Rockwell Collins, a major avionics manufacturer, concerning its interventions in the landmark appeals before the European General Court against the European Commission's GE/Honeywell decision, in what is generally considered a turning point in EC merger control. Supported the Commission's position in both cases and won (2005).
JUVE, Brussels (2015-2016)
Global Competition Review, 40 Under 40 (2012)
Chambers Global, Competition/European Law (Belgium) (2011-2012, 2016-2017)
Chambers Europe, Competition/European Law (2017)
Shortlisted for "Lawyer of the Year - Under 40" by GCR Awards 2011
Legal 500 EMEA, Competition: Belgium (2015-2017), Healthcare and Life Sciences (2017) and EU Regulatory - Information Technology (2015-2016)