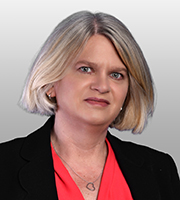 Jacqueline Charlesworth's experience encompasses a rare combination of litigation, transactional, and policy work in both the government and private sector.
Ms. Charlesworth served as General Counsel and Associate Register of Copyrights for the U.S. Copyright Office, where she oversaw a wide range of litigation, legislative, regulatory, and policy matters, including:
Legal interpretation of the Copyright Act
Copyright Office participation in Supreme Court and other cases
Advice to Congress on copyright-related legislation and policy concerns
Rulemaking proceedings under the DMCA and other statutory provisions
Legal review of Copyright Royalty Board decisions
Administration of statutory cable, satellite and music licenses
Copyright registration and termination issues
Copyright policy studies, including two major reports for Congress:

Copyright and the Music Marketplace (2015), an examination of music licensing practices in the United States, with recommendations for improvement; and
Copyright Small Claims (2013), an analysis of the obstacles faced by small copyright claimants that includes draft legislation to create a small copyright claims tribunal.