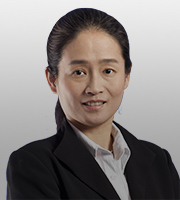 Grace Chen has practiced in China for almost twenty years, representing technology, media, IT, life sciences, and clean-tech companies on technology transactions encompassing the establishment of joint ventures, technology licenses, protection of intellectual property, research collaborations, data privacy and cybersecurity matters, and employment issues.
Ms. Chen's work on data privacy and cybersecurity involves advising on the collection, storage, and use of personal data, privacy and monitoring in the workplace, consumer protection, advertising, and cross-border data transfers. Recent projects include providing strategic advice relating to cloud computing, health care and patient privacy, mobile positioning and locator services, telematics services, online advertising, social media, and other ecommerce applications, focusing on both legal and regulatory compliance as well as industry-driven best practices. Ms. Chen also works on employment matters, focusing upon issues crucial to IP-intensive companies, i.e., workplace privacy, invention assignments, inventor remuneration and non-compete/non-solicitation covenants.
Combining industry-sector knowledge, strong legal skills and a practical approach to doing business that is informed by broad experience, Ms. Chen has helped many companies navigate China's ever-changing legal landscape, enabling clients to optimize business structures in addition to formulating and implementing robust legal strategies.