Sophie Bertin
Senior Advisor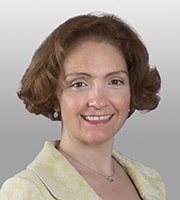 Sophie Bertin is a senior advisor to Covington in their Financial Services and Antitrust practice.
Her current focus is on financial services topics, ranging from State aid, implementation of regulations, interplay between various regulations, including the new data protection rules; as well as the impact of new technologies (like Blockchain) on the financial services business models and resulting competition challenges.
Ms. Bertin has over 20 years of professional experience and she has broad experience helping banking clients on their strategy, restructuring, reorganization, risk management, regulatory and compliance, back-office operations and automation, as well as, advising on various issues around banking regulation and competition law (most notably State aid).
She worked for six years with McKinsey in their Financial Services and Corporate Finance practice, where she contributed to the development of the bank valuation tool. She then worked with the Bank of New York, where she held different senior positions, amongst others, Head of the EMEA Securities Processing teams and then in charge of large-scale client integrations and optimizations. Ms. Bertin then worked with Bain, in their Financial Services practice, helping on expanding the reach of the practice, specifically in Securities Service, Transaction Banking and Capital markets. She then worked with SWIFT, where she was globally in charge of the Asset Servicing team, working on further developing automation and standardization within large financial institutions and working on innovative projects to use new technologies in the securities servicing space.
During the Financial Crisis, Ms. Bertin joined the European Commission, Directorate General for Competition, where she held the position of Head of the Unit in charge of State aid to the Financial Institutions experiencing challenges during the crisis (so called 'Financial Crisis Task Force'). This entailed a detailed review, challenging and approval of their restructuring or resolution plans; the application of the State aid rules, as well as their development to suit the evolving character of the crisis. Throughout the financial crisis in 2008, the task force has approved over EUR 1.2 trillion of State guarantees and over EUR 420 billion of capital injections. She and her Unit and colleagues contributed extensively to the shaping of the EBA definitions of 'failing or likely to fail,' the setting of the principles embedded in the BRRD. They contributed as well to the thinking around the various banking packages, not least from a pro-competitive angle.
Ms. Bertin graduated from the French Ecole Supérieure de Commerce de Paris, or ESCP Europe, with a specialization in Financial Valuation and Corporate Finance. Later, she received an MBA from INSEAD. More recently, she graduated with distinction from the post-graduate program in EU Competition Law from King's College London.
Ms. Bertin is fluent in French, German, English, and Bulgarian and travels extensively both for work and leisure.