Our Website Uses Cookies
We and the third parties that provide content, functionality, or business services on our website may use cookies to collect information about your browsing activities in order to provide you with more relevant content and promotional materials, on and off the website, and help us understand your interests and improve the website.
For more information, please contact us or consult our Privacy Notice.
Your binder contains too many pages, the maximum is 40.
We are unable to add this page to your binder, please try again later.
This page has been added to your binder.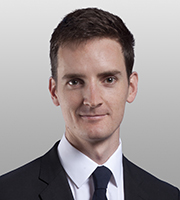 Philippe Bradley-Schmieg's practice covers a range of regulatory and commercial matters affecting the IT, internet media, e-health and telecoms sectors across the world.
Mr. Bradley-Schmieg advises on legislation, enforcement, advocacy and contracts relating to privacy, data protection, consumer protection, intermediary liability, copyright and databases, Big Data, medical confidentiality, cybersecurity, law enforcement data requests, and smart medical devices and apps.
Mr. Bradley-Schmieg advises on UK, EU and international law, and has extensive experience sourcing and coordinating advice from jurisdictions around the world. He has worked in London and Brussels.
Advising healthcare, pharmaceutical and medical device companies on privacy, data protection and cybersecurity matters.
Advising a prominent online information provider on its response to recent evolutions of the EU "right to be forgotten."
Advising a health app, website and smart medical device developers on data protection and medical device legislation.
Advising on law reforms, including in relation to the proposed EU General Data Protection Regulation, the Consumer Rights and Data Retention Directives, the UK Data Retention and Investigatory Powers Act, and the UK Regulation of Investigatory Powers Act.
Advising gaming companies on online prize tournaments and gambling laws in the EU.
Advising a leading cloud computing provider on data residency requirements for public administration, financial services, education, healthcare and defence sectors in 19 EU and LATAM markets and sectors.
Advising a major not-for-profit media group on international compliance with online fundraising laws.
Advising a leading IT multinational on compliance with cross-border law enforcement requests for user data.
Advising a large online travel company on direct marketing consent mechanisms.
Advising a global financial IT company on Russian trade sanctions compliance.
Representing a leading pharmaceutical company in its negotiations of a complex CRM data cross-licence.
Advising a sports regulatory authority on data sharing between enforcement authorities.
Advising Privacy International on data protection-related matters.
Advising a children's charity on data subject access rights under the UK Data Protection Act.
Advising SolarAid on UK corporate and charitable governance and international trade and restructuring matters.
Advising on franchise and IP licensing agreements for a social organization.
Memberships and Affiliations
Society for Computers and Law
Privacy and copyright policy analyst at a digital rights NGO.
Medical economics analyst and writer at a healthcare consultancy.