Patricia A. Barald
Senior Counsel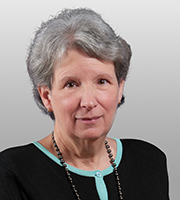 Patricia Barald has had an active litigation practice at Covington since 1975. Her insurance practice has included representing corporate policyholders and policyholders coalitions seeking coverage for environmental, asbestos, fidelity, crime/fraud and other claims in state and federal courts under a wide variety of policies, and challenging in the U.K. courts "solvent schemes of arrangement" by British insurers attempting to cut off U.S. policyholders' rights under longstanding occurrence policies.
She formerly headed the firm's Environmental Practice Group and has over thirty years' experience litigating matters for companies and coalitions of companies in the chemical and other industries under federal and state environmental statutes, regulations and ordinances, including the Clean Air Act and CERCLA.
Her practice has also included environmental auditing, negotiating environmental aspects of corporate transactions, and environmental aspects of bankruptcy proceedings, and she has authored a handbook of guidance for corporate counsel on environmental auditing, as well as articles on alternate dispute resolution and the relation between environmental laws and federal bankruptcy law.