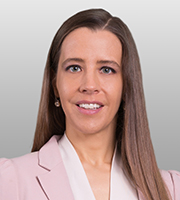 With a technical and policy background and expertise in all aspects of food (human and animal), cosmetic, and OTC law at both the state and federal level, MaryJoy Ballantyne helps clients navigate the numerous challenges facing industry and their trade associations.
By staying abreast of the ever-changing regulatory and litigation risks affecting foods, Ms. Ballantyne helps clients assess and obtain authorizations of food and dietary ingredients, create competitive yet low-risk labeling and marketing strategies, and respond strategically to regulatory and competitor challenges. Ms. Ballantyne helps clients understand the nuances of clean label claims such as "natural," "organic," "healthy," "non-GMO," "locally sourced," "no artificial . . ." She also conducts substantiation assessments for claims and advertising campaigns, relying on her experience with scientific and clinical studies, and counsels clients on designing clinical programs to support marketing claims. On behalf of her clients, Ms. Ballantyne has submitted numerous technical documents to FDA and USDA, including comments on FSMA, dietary fiber, added sugar, and the federal bioengineered food disclosure standard.
Ms. Ballantyne has considerable experience with food safety requirements, including HACCP, dietary supplement CGMPs, and FDA's Food Safety Modernization Act (FSMA). She is certified through the Food Safety Preventive Controls Alliance (FSPCA) as a Preventive Controls Qualified Individual (PCQI). Clients rely on her in-depth knowledge of FSMA for practical strategies for implementing the PC requirements for human and animal food, the Foreign Supplier Verification Program, Sanitary Transportation, and Food Defense. With an in-house perspective on quality and manufacturing compliance, Ms. Ballantyne assists clients in strengthening CGMPs and quality systems, implementing procedures and quality agreements, successfully closing out challenging inspections, responding to 483s and warning letters, and effectively advocating in person at FDA.

Ms. Ballantyne's expertise extends beyond FDA to the full spectrum of food laws administered by USDA, including its nutrition programs, the National Organic Program, programs administered by the Agricultural Marketing Service, the Food Safety Inspection Service, and Animal and Plant Health Inspection Service, and importations under the Lacey Act.

At the state level, Ms. Ballantyne helps clients understand their obligations under California's Proposition 65 and applicable safe harbors, state weights and measures requirements, as well as the numerous local taxes targeting foods.

Using her broad knowledge of state and federal requirements for foods, cosmetics, and OTCs, Ms. Ballantyne supports corporate transactions and litigation matters, enabling clients to accurately assess the value and liabilities of potential transactions or develop technical-based litigation strategies. Ms. Ballantyne also advocates alongside clients on Capitol Hill and at the White House, providing valuable insight directly to legislators and policy makers on regulatory impacts and legal implications of pending or existing law.