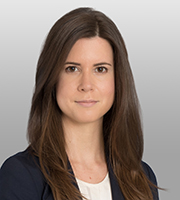 Laura Brookover has extensive experience in the areas of commercial litigation, class action defense, and state and federal enforcement actions with particular emphasis on the financial services sector.
Ms. Brookover rejoins the firm after serving in the Division of Enforcement at the Commodity Futures Trading Commission (CFTC), where she litigated enforcement actions in federal courts across the country. Earlier this year, Ms. Brookover served as lead counsel in a federal court trial and secured a verdict for the CFTC on all counts, obtaining the agency's first-ever litigation victory under its Dodd-Frank Act false statements authority. Ms. Brookover also served in the agency's Spoofing Task Force, and she investigated numerous spoofing matters and built federal court cases as part of an industry sweep. During her time with the government, Ms. Brookover also worked with counterparts at DOJ and SEC on parallel investigations and inquiries.
At the firm, Ms. Brookover brings her extensive litigation experience to bear in complex commercial and consumer litigation in federal and state court.