Our Website Uses Cookies
We and the third parties that provide content, functionality, or business services on our website may use cookies to collect information about your browsing activities in order to provide you with more relevant content and promotional materials, on and off the website, and help us understand your interests and improve the website.
For more information, please contact us or consult our Privacy Notice.
Your binder contains too many pages, the maximum is 40.
We are unable to add this page to your binder, please try again later.
This page has been added to your binder.
Kevin T. Barnett
Associate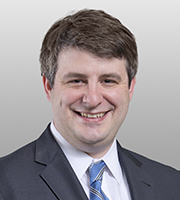 Kevin Barnett represents a broad array of clients, ranging from large defense contractors to small technology companies in all aspects of government contracts law.
He has litigated claims against the United States and has counseled clients on complicated regulatory compliance issues involving GSA schedule contracts, small business rules, Buy American Act and Trade Agreement Act issues. He also routinely assists clients on the Freedom of Information Act (FOIA) process from drafting through litigating in federal court.
Mr. Barnett also advises clients on complex attorney-client privilege issues. He is a contributing author to Thomson Reuters' Attorney Client Privilege in the United States, the leading treatise on the subject. This work is routinely cited by circuit courts of appeals, federal trial courts, and state supreme courts. He is a frequent contributor to InsideGovernmentContracts.
Advised Fortune 500 company on maintaining and preserving attorney-client privilege during internal investigations conducted by in-house counsel.
Litigated FOIA request to coerce non-cooperative agency to make full disclosure of requested documents to assist contractor's preparation of claims against the United States.
Conducted internal investigation into time charging allegations that resulted in multiple mandatory disclosures and no action to date by the agency.
Assisted representation of contractor $50M claim at COFC involving extensive discovery, prolonged summary judgment briefing and disputes over waiver of attorney-client privilege.
Key team member in successful representation of large government contractor in international arbitration for breach of contract against foreign government for over €50M verdict and complete denial of over €50M in counter-claims.
Assisted veteran in successfully obtaining service connection for disability at Board of Veterans Appeals after three previous denials of her claims.
Capital Pro Bono Honor Roll (2012, 2014, 2015)
Memberships and Affiliations
Board of Contract Appeals Bar Association
ABA, Public Contract Law Section, Commercial Products & Services Committee, Co-Chair
ABA, Public Contract Law Section, Small Business Committee
Education
American University, Washington College of Law, J.D., 2010
cum laude
American University Law Review, Articles Editor
The George Washington University, B.A., 2004