Our Website Uses Cookies
We and the third parties that provide content, functionality, or business services on our website may use cookies to collect information about your browsing activities in order to provide you with more relevant content and promotional materials, on and off the website, and help us understand your interests and improve the website.
For more information, please contact us or consult our Privacy Notice.
Your binder contains too many pages, the maximum is 40.
We are unable to add this page to your binder, please try again later.
This page has been added to your binder.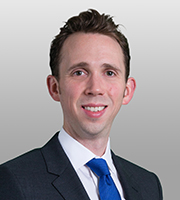 Ian Brekke advises clients across a broad range of issues arising from their participation or connection to government contracting, including advising on particular regulatory requirements in contracts, grants, and other government agreements, advising clients in transactional matters involving government contractors, and providing guidance on intellectual property rights.
Mr. Brekke's government contracts experience also includes representing clients involved in contract disputes, government investigations, civil litigation, and bid protests.
Before joining the firm, Mr. Brekke clerked for Judge Andrew J. Kleinfeld on the U.S. Court of Appeals for the Ninth Circuit and for Judge Robert B. Kugler on the U.S. District Court for the District of New Jersey. Before that, Mr. Brekke spent a year litigating RFRA lawsuits at Alliance Defending Freedom in Washington, DC.
Transactional Assistance
Representation of private equity firms and contractors in the acquisition and sale of government contractors and assets, involving issues related to carve out, False Claims Act liability, compliance, intellectual property rights, state and local contracting, protest risk for pending proposals, key personnel, organizational conflicts of interest, pending litigation, and competitive effects.
Advise acquired government contractor NewCo regarding pending proposals and questions from Federal agency about changes to contractor's resources post-acquisition.
Representation of major pharmaceutical company during contract novation discussions with government after acquisition of original contractor's assets and technology transfer.
Intellectual Property Rights and Obligations
Representation of pharmaceutical companies and industry groups regarding the Bayh-Dole Act, including providing guidance about general Bayh-Dole Act requirements, U.S. manufacturing requirements, collaboration and transaction considerations, and U.S. Government license and march-in rights.
Representation of government contractors regarding intellectual property and data rights and obligations under the FAR, DFARS, and other agency supplements, including providing guidance about protecting contractor proprietary information and government rights in data provided pursuant to a government contract.
Procurement and Non-Procurement Agreement Compliance
Advise government contractors related to FAR, DFARS, HHSAR, and other agency supplement requirements, including flow down requirements for subcontractors.
Representation of nonprofit holder of NASA cooperative agreement, including advising on grant and cooperative agreement regulations and NASA-specific regulations, negotiating subcontracts with major commercial firms, negotiating and issuing subawards under the cooperative agreement, procurement guidelines under the cooperative agreement, managing organizational conflicts of interest, management and disposition of subawardee purchased property, and negotiating intellectual property provisions.
Advise pharmaceutical company on options for fulfilling existing contract requirements and on strategy for proposing modification of future requirements in light of FDA investigation and changed production capabilities, while ensuring continued compliance with contract terms.
Advise government services contractor on compliance with SBA mentor-protégé program, and provide advice on drafting new mentor-protégé and joint venture agreements.
Advise USAID grant recipients regarding Protecting Life in Global Health Assistance policy (i.e., the Mexico City policy), implemented in May 2017.
Investigations, Litigation, and other Disputes
Representation of major airline carrier in civil False Claims Act investigation by the U.S. Department of Justice regarding U.S. mail carried under contract with U.S. Postal Service.
Representation of defense contractor in dispute with Department of Navy over highly-sensitive trade secret data incorporated into deliverables provided under the contract.
Advise defense contractor in dispute with U.S. Department of Labor regarding requirement to carry Defense Base Act insurance for contractor employees working in Iraq.
Representation of government contractor in civil tort claims suit filed by family members of deceased contractors working.
Other Representative Matters
Representation of government contractors in bid protests, including protests filed by clients and protests against awards to clients in GAO, the Court of Federal Claims, and state and local courts.
Advise government contractors regarding requests for proposals from various federal, state, and local agencies.
Advise regarding questions about Antideficiency Act and Augmentation of Appropriations.
Representation of media technology group in high-stakes patent litigation against major U.S. television provider in Federal District Court and in International Trade Commission Investigation.
Representation of veteran in appeal to U.S. Court of Appeals for Veterans Claims.
Representation of veteran seeking mandamus petition from U.S. Court of Appeals for Veterans Claims.
Advise environmental organization on lobbying restrictions and obligations in cooperative agreement with BLM.
Advise animal humane society on proposal submission for exclusive contract to provide animal control services to major U.S. city.
Advise industry and government panel on proposed revisions to FAR to simplify and consolidate commercial items provisions in Part 12.
Memberships and Affiliations
Federalist Society
American Bar Association
Alliance Defending Freedom, Law Clerk (2013-2014)