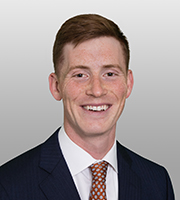 Charles Buker is an associate in the firm's Washington, DC office. He is a member of the Public Policy and CFIUS Practice Groups with a focus on U.S. defense budgetary policy and industrial security.
Prior to joining the firm, Mr. Buker clerked for the Honorable Frank M. Hull of the United States Court of Appeals for the Eleventh Circuit.
Mr. Buker is a member of the Bar of New York. District of Columbia bar application pending; supervised by principals of the firm.