Our Website Uses Cookies
We and the third parties that provide content, functionality, or business services on our website may use cookies to collect information about your browsing activities in order to provide you with more relevant content and promotional materials, on and off the website, and help us understand your interests and improve the website.
For more information, please contact us or consult our Privacy Notice.
Your binder contains too many pages, the maximum is 40.
We are unable to add this page to your binder, please try again later.
This page has been added to your binder.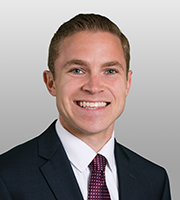 Bryan Byrd has experience advising clients across a broad range of issues arising from their participation in government contracting.
Mr. Byrd's practice covers multiple subject-matter areas, including: contract negotiations, bid protests, flow-down requirements, schedule contracts, compliance, and performance disputes. He works with clients in many industries, including life sciences, defense, and construction.
Public Health Contracting
Successfully assisted multiple clients in contract negotiations involving work to be performed for the U.S. Departments of Health and Human Services and Defense in connection with significant threats to public health, including Ebola.
Advised a major pharmaceutical company on exclusive licensing requirements for government-owned vaccine technology.
Performance Disputes
Successfully represented defense contractor in breach of contract suit brought by subcontractor in Eastern District of Virginia's "rocket docket."
Other Representative Matters
Advised multiple government contractors on intellectual property issues relating to government contracting, including subject invention reporting and domestic manufacturing preferences.
Advised leading nonprofit organization for the protection of children who enter the U.S. immigration system alone regarding government contract compliance.
Represents veterans in filing petitions for extraordinary relief from the U.S. Court of Appeals for Veterans Claims directing the Department of Veterans Affairs to certify veterans' appeals of benefits decisions.
Assists with the coordination of Covington's Cardozo Saturday Academy, a partnership between Cardozo Senior High School and Covington providing educational enrichment programs for high school students.
Memberships and Affiliations
Professorial Lecturer in Law, The George Washington University Law School, Scholarly Writing Program, Public Contract Law Journal
Vice Chair, American Bar Association, Section of Public Contract Law, Young Lawyers Committee
Special Assistant United States Attorney, U.S. Department of Justice, U.S. Attorney's Office, Eastern District of Virginia
Attorney-Examiner, U.S. Civilian Board of Contract Appeals