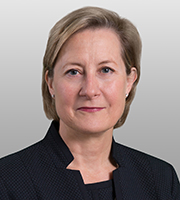 Beth Brinkmann is an experienced appellate and Supreme Court litigator who has served in high-level positions in the Department of Justice, most recently as Deputy Assistant Attorney General in the Civil Division. She has argued 24 cases before the Supreme Court of the United States. Ms. Brinkmann also has argued in numerous federal and state appellate courts across the country.
As the Civil Division's top appellate lawyer, she was responsible for supervising much of the federal government's civil litigation in appellate courts, including constitutional challenges, administrative law issues, intellectual property matters, and national security cases. During her tenure at the DOJ, Ms. Brinkmann presented oral argument in several high-profile court of appeals cases, including the successful defense of the constitutionality of the Affordable Care Act and the government's victory in federal immigration preemption litigation. She also regularly consulted with trial lawyers for the government on legal arguments and strategy at early phases of litigation, made recommendations on appellate matters to the U.S. Solicitor General, and advised senior leadership of cabinet-level departments and at regulatory agencies regarding litigation risk, legislative proposals, and rulemaking matters.
From 1993 to 2001, Ms. Brinkmann served as an Assistant to the Solicitor General in the Department of Justice. In this role, she briefed and argued cases to the Supreme Court on behalf of the United States and also provided advice and analysis on whether to authorize appeals, petitions for certiorari, and petitions for rehearing en banc.
Ms. Brinkmann served two years as an Assistant Federal Public Defender, where she represented indigent criminal defendants in federal district court, including approximately a dozen felony jury trials. She also previously handled both trial and appellate litigation in state and federal court at a small boutique litigation firm.