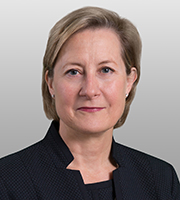 Beth Brinkmann is a veteran appellate litigator with extensive experience in handling complex client matters. Her strong background in both government and private practice informs her understanding of how best to support her clients' objectives, while resolving their most difficult legal challenges.
Ms. Brinkmann joined the firm as co-chair of the Appellate and Supreme Court Litigation Group after serving as Deputy Assistant Attorney General in the U.S. Department of Justice, Civil Division, where she oversaw the Division's nationwide appellate litigation. She also has practiced for more than two decades before the Supreme Court of the United States, including as Assistant to the Solicitor General and in private practice. She argued her 25th case before the Supreme Court in 2019, and regularly argues in appellate courts across the country.
As the Civil Division's top appellate lawyer, Ms. Brinkmann represented federal agencies and Executive Branch officials in high-profile cases across a range of subject areas, including constitutional law, regulatory challenges, intellectual property matters, FOIA, federal preemption, and national security cases. She regularly coordinated with government trial teams on analysis of potential legal arguments at early phases of litigation, and collaborated across offices on development of appellate and Supreme Court strategy. Ms. Brinkmann also presented congressional testimony and advised senior leadership of cabinet-level departments and regulatory agencies regarding litigation risk, legislative proposals, and rulemaking matters.
Previously, Ms. Brinkmann served as Assistant to the Solicitor General, briefing and arguing Supreme Court cases on behalf of the federal government. She served as Assistant Federal Public Defender, representing indigent criminal defendants, including approximately a dozen felony jury trials.