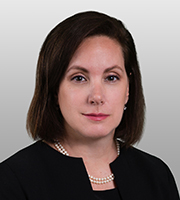 Ann Bobeck is special counsel in the firm's Communications and Media Practice Group. She previously served as Vice President and Deputy General Counsel at the National Association of Broadcasters (NAB). Over the last 17 years, Ms. Bobeck held several positions at the NAB, where she represented television and radio broadcasters before the FCC, FAA, FEMA, FTC, Congress and the courts. She helped formulate and coordinate industry positions and advocated on a wide range of regulatory matters, including advertising, accessibility, children's television programming, contests and promotions, emergency alerting, localism, ownership and control, indecency, political broadcasting, sponsorship identification, tower siting, and the Telephone Consumer Protection Act.
While at the NAB, Ms. Bobeck was editor of The Political Broadcast Catechism and the Political Agreement Forms, the NAB's political advertising publications.
She also co-authored, with the National Center for Missing and Exploited Children, the first and second editions of the AMBER Kit and Action Plans.