Our Website Uses Cookies
We and the third parties that provide content, functionality, or business services on our website may use cookies to collect information about your browsing activities in order to provide you with more relevant content and promotional materials, on and off the website, and help us understand your interests and improve the website.
For more information, please contact us or consult our Privacy Notice.
Your binder contains too many pages, the maximum is 40.
We are unable to add this page to your binder, please try again later.
This page has been added to your binder.
Trisha B. Anderson
Partner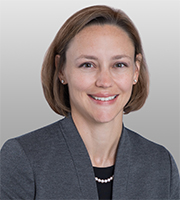 Trisha Anderson, an experienced national security and cybersecurity lawyer, advises clients on white collar investigations and national security issues, including national security surveillance and law enforcement compliance and litigation, cybersecurity and data privacy, and CFIUS, with a particular focus on information and communications technologies.
Ms. Anderson rejoined the firm after over a decade of service in the federal government. She held senior positions at the Department of Justice and the Department of the Treasury. Most recently she served as Principal Deputy General Counsel at the Federal Bureau of Investigation, where she handled complex and sensitive matters relating to national security and cyber intrusions.

Federal Bureau of Investigation, Principal Deputy General Counsel
U.S. Treasury Department, Assistant General Counsel for Enforcement & Intelligence
U.S. Department of Justice, Associate Deputy Attorney General; Attorney-Adviser at the Office of Legal Counsel

Key Takeaways: DOJ Releases White Paper on CLOUD Act
On April 10, 2019, the U.S. Department of Justice released a white paper and FAQ on the CLOUD Act.
Read More
Education
Harvard Law School, J.D., 2003
magna cum laude
Harvard International Law Journal, Editor-in-Chief
Yale University, B.A., 1998
Judicial Clerkship
Elena Kagan, Supreme Court of the United States, 2010 - 2011
Hon. Jeffrey S. Sutton, U.S. Court of Appeals, Sixth Circuit, 2003 - 2004