Our Website Uses Cookies
We and the third parties that provide content, functionality, or business services on our website may use cookies to collect information about your browsing activities in order to provide you with more relevant content and promotional materials, on and off the website, and help us understand your interests and improve the website.
For more information, please contact us or consult our Privacy Notice.
Your binder contains too many pages, the maximum is 40.
We are unable to add this page to your binder, please try again later.
This page has been added to your binder.
Covington Hosts CKA Empower Summit
November 1, 2019
Covington was a proud sponsor of the 2019 Council for Korean Americans (CKA) Empower Summit, held in Washington, DC on November 1-2. Covington hosted the Women's Leadership Luncheon and welcome dinner, which included keynote addresses by L. Song Richardson, Dean of UC Irvine School of Law, and Susan Jin Davis, Chief Sustainability Officer of Comcast.
This annual conference connects Korean American leaders from all across the country to inspire, equip and empower each other with the tools necessary to advance in their respective professional fields. This year, the conference consisted of plenary sessions and workshops addressing a variety of topics pertinent to the Korean American community, including service, diversity, leadership, civic engagement, communication, philanthropy, entrepreneurship, and mental health. Over 400 Korean American leaders, ranging from young professionals to senior executives, attended the conference this year.
Catharina Min, Denny Kwon, Laura Kim, Teresa Park, Ashley Kwon, Vivian Choi, Han Park, Daniel Cho, and Jamin Koo represented Covington at the conference. Several clients of the firm attended. Catharina Min is a founding board member of the CKA.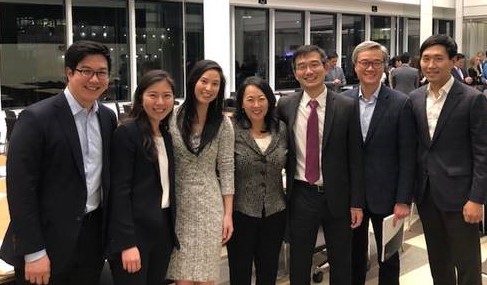 Daniel Cho, Vivian Choi, Ashley Kwon, Catharina Min, Han Park, Denny Kwon, and Jamin Koo.