Our Website Uses Cookies
We and the third parties that provide content, functionality, or business services on our website may use cookies to collect information about your browsing activities in order to provide you with more relevant content and promotional materials, on and off the website, and help us understand your interests and improve the website.
For more information, please contact us or consult our Privacy Notice.
Your binder contains too many pages, the maximum is 40.
We are unable to add this page to your binder, please try again later.
This page has been added to your binder.
#CovHasPride Spotlight Series: Kaetochi Okemgbo
June 24, 2019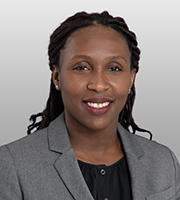 Kaetochi Okemgbo is a member of the Food, Drug and Device and Health Care Practice Groups. She also has experience in patent litigation. Prior to joining the firm, Ms. Okemgbo served as a law clerk to the Honorable Gregory M. Sleet of the U.S. District Court for the District of Delaware and the Honorable Todd M. Hughes of the U.S. Court of Appeals for the Federal Circuit.
How are firms doing with regard to promoting inclusion - as you onboard, as you progress? Are there specific things that firms can/should do to demonstrate an inclusive culture? If so, what might one thing be?
While large firms have made strides in promoting diversity in the recruiting process, they still have a lot of ground to cover when it comes to the inclusion and retention of a diverse lawyer population. It is great that more people are getting their foot in the door, but that is not enough. Navigating the nuances of law firm life can be difficult and the work environment in large firms can be unwelcoming. In my view, an inclusive workplace is one in which people with different identities or social backgrounds are able to be their authentic selves, rather than being pressured to fit into the mold of a dominant culture. Beyond dealing with explicit biases, firms also should to take the time to understand the implicit obstacles lawyers face, whether based on their race, gender, sexual orientation, or gender identity. Firms should provide tools to help lawyers of color, women lawyers, and LGBT+ lawyers overcome those obstacles and support their professional development. In addition, firms should regularly challenge senior lawyers to examine their own biases and how these might affect their actions related to the development and evaluation of more junior lawyers.
What reservations, if any, did you have about being out in the workplace?
I am black, I am a woman, and I am bisexual. At times in my life, I have experienced prejudice—in some cases benign, in others deeply traumatizing—based on my race, gender, and sexuality. Although these identities do not define who I am as a person, they shape and influence my life experiences. When I was choosing a law firm, it was important for me to work in a place where I would be comfortable being out in the workplace. I am proud to work at a firm that has long championed the rights of the LGBT+ community, both in its internal policies and in its pro bono representation.
What advice would you have for your younger self about working as a lawyer?
Like other things in life, your career is about the journey, not the destination. Check in with yourself, trust your instincts, and don't be afraid to reevaluate your goals if you find your job does not align with your values.