Our Website Uses Cookies
We and the third parties that provide content, functionality, or business services on our website may use cookies to collect information about your browsing activities in order to provide you with more relevant content and promotional materials, on and off the website, and help us understand your interests and improve the website.
For more information, please contact us or consult our Privacy Notice.
Your binder contains too many pages, the maximum is 40.
We are unable to add this page to your binder, please try again later.
This page has been added to your binder.
Diversity Speaker Series: Ashley Chavous Interviews Eric Holder
February 21, 2019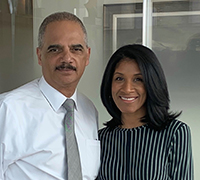 Covington partner Eric Holder was our guest for the recent installment of the firm's Diversity Speaker Series. During an interview with Ashley Chavous, an associate in the firm's white collar practice, Mr. Holder addressed the state of diversity in the legal profession and the role of law firms and corporations in fostering a more inclusive industry. More than 200 people participated from the firm's U.S. and London offices, as part of the firm's celebration of African American History Month.
Mr. Holder served as Attorney General from February 2009 to April 2015. As the third longest serving Attorney General in U.S. history and the first African American to hold that office, Mr. Holder is an internationally recognized leader across a broad range of regulatory enforcement, criminal justice, and national security issues.
Ms. Chavous and Mr. Holder covered a range of topics including the overall state of the legal industry with regard to the diversity of legal talent and the role each member of the organization plays in advancing diversity and inclusion. Mr. Holder shared his optimism for the industry and noted that the future leaders of law firms and corporations represented a more diverse population that would bring new ideas and energy to this important topic.