Our Website Uses Cookies
We and the third parties that provide content, functionality, or business services on our website may use cookies to collect information about your browsing activities in order to provide you with more relevant content and promotional materials, on and off the website, and help us understand your interests and improve the website.
For more information, please contact us or consult our Privacy Notice.
Your binder contains too many pages, the maximum is 40.
We are unable to add this page to your binder, please try again later.
This page has been added to your binder.
#CovBlackHistory Spotlight Series: Stephanie Tennant
February 22, 2019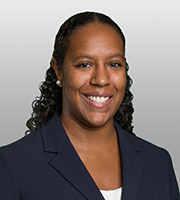 Stephanie Tennant is an associate in the firm's San Francisco office and a member of the White Collar Defense and Investigations Practice Group. She advises clients on anti-corruption compliance matters and investigations, including the Foreign Corrupt Practices Act ("FCPA"), with a particular focus on the Latin American region.
As a fluent Spanish and Portuguese speaker, Ms. Tennant is particularly well-equipped to support the needs of clients with operations in Latin America and in other Spanish or Portuguese-speaking countries.
Has your cultural background influenced the manner in which you approach your work as a lawyer? If so, how?
My cultural background as a Black and Latina woman inherently shapes the way that I approach lawyering and problem solving. Particularly in Latin America, I bring a unique perspective to my work because I understand the broader cultural and societal context in which our clients are operating. Cultural competence is an important skill in developing comprehensive solutions for our clients and I think clients value receiving well-rounded advice.
What advice do you have for associates interested in leveraging their language skills as part of their practice?
My language skills are such an integral part of my practice. I would encourage anyone who speaks a different language, no matter the level of proficiency, to volunteer and get involved in matters that could benefit from having lawyers that speak that language. It will help strengthen your language skills and will expose you to different lawyers and new and interesting matters. I have worked with many different lawyers at the firm, outside my practice area and across offices, and it has led to a more rewarding practice. Language can often result in a better work product for our clients and provide an added level of service that clients appreciate.
You serve on the Advisory Board of OneJustice. What drew you to the organization and how do organizations such as OneJustice bring more equity to the delivery of legal services?
Part of why I came to Covington was the firm's commitment of having lawyers that are involved in the broader communities in which we practice, either through pro bono work or service. Organizations like OneJustice are valuable because they are on the frontlines of promoting access to justice for all, bringing awareness to the types of issues and challenges that affect the more disadvantaged populations within our communities and connecting those that need legal services with organizations that can provide resources. There are a variety of ways in which law firms can help advance the work of organizations like OneJustice. Apart from financial contributions, attorney time and capacity through pro bono work and volunteering help an organization more efficiently serve its client base. Firms can also support organizations by volunteering their physical space, such as conference rooms, for meetings and other events.