Our Website Uses Cookies
We and the third parties that provide content, functionality, or business services on our website may use cookies to collect information about your browsing activities in order to provide you with more relevant content and promotional materials, on and off the website, and help us understand your interests and improve the website.
For more information, please contact us or consult our Privacy Notice.
Your binder contains too many pages, the maximum is 40.
We are unable to add this page to your binder, please try again later.
This page has been added to your binder.
#CovBlackHistory Spotlight Series: Lisa Peets
February 22, 2019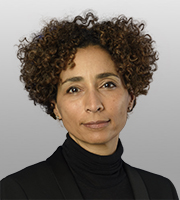 Resident in Covington's London office, Lisa Peets leads the Technology and Media practice there and her practice embraces regulatory counsel and legislative advocacy. In this context, she has worked closely with leading multinationals in a number of sectors, including some of the world's best-known technology, media, and life science companies.
Ms. Peets' interest in the law was partially prompted by an early appreciation for the ways in which the law could drive change in the daily lives of people.
As a lawyer at Covington, how has your cultural background influenced the manner in which you approach your work?
As a Black woman partner, I am aware that mine is a unique position and I am both mindful and appreciative of those who came before me. I keep a photograph on the wall of my office of black women -- slaves -- picking cotton. It reminds me of how much others sacrificed so that I could have the opportunity to sit where I sit.
You are originally from the U.S. and now working in the firm's London office. What differences have you seen regarding diversity and inclusion efforts in the U.S. and the UK?

In the UK, there seems to be a greater sensitivity to socio-economic diversity. This dimension of diversity is gaining traction in the U.S. as evidenced by the formation of first-generation student groups at U.S. law schools and similarly focused affinity groups at U.S. law firms. The topic of implicit bias seems quite universal, but the specific biases differ. Here, for example, people often believe that they can place your socio-economic background, the town you're from, and sometimes even your school, by your accent, and then make immediate assumptions -- by contrast, I can barely tell an Australian from a Brit! Good implicit bias training shouldn't be about identifying specific biases, however -- it should teach participants to be sensitive to the fact of implicit assumptions, whatever form those assumptions might take.