Our Website Uses Cookies
We and the third parties that provide content, functionality, or business services on our website may use cookies to collect information about your browsing activities in order to provide you with more relevant content and promotional materials, on and off the website, and help us understand your interests and improve the website.
For more information, please contact us or consult our Privacy Notice.
Your binder contains too many pages, the maximum is 40.
We are unable to add this page to your binder, please try again later.
This page has been added to your binder.
#CovHasPride Spotlight Series: Swati Prakash
June 25, 2018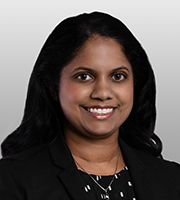 Swati Prakash is a litigator who represents clients in commercial litigation matters. Prior to joining the firm, Swati served as a law clerk to the Honorable Margo K. Brodie of the United States District Court for the Eastern District of New York. Before law school, Swati worked as public health researcher and advocate in Oakland California, and in Harlem, New York, and was active with the South Asian Lesbian & Gay Association (SALGA) in New York City. Swati lives in Brooklyn, New York with her wife and daughter.
As a person of color and a member of the LGBT+ community, how has Covington supported both your professional and personal growth?
During my time at Covington, I have been able to grow significantly as a lawyer, while also focusing on issues that matter to me as a gay woman of color. Through Covington's commitment to pro bono service, I have been able to work on a wide range of racial justice and LGBT+ matters since arriving at the firm. During my first year here, for example, I represented an immigrant worker in bringing claims for minimum wage and overtime violations and discrimination on the basis of sexual orientation under New York City's Human Rights Law. I've also worked on an impact-litigation voting rights matter in Alabama, and have contributed to addressing racial disparities in the criminal justice system through my work on two death penalty habeas matters and in a challenge to inhumane prison conditions in Mississippi. These matters, which have ranged considerably in terms of scale, have given me significant experience with written and oral advocacy, which in turn has made me a more confident and better litigator in my everyday practice.