Our Website Uses Cookies
We and the third parties that provide content, functionality, or business services on our website may use cookies to collect information about your browsing activities in order to provide you with more relevant content and promotional materials, on and off the website, and help us understand your interests and improve the website.
For more information, please contact us or consult our Privacy Notice.
Your binder contains too many pages, the maximum is 40.
We are unable to add this page to your binder, please try again later.
This page has been added to your binder.
#CovHasPride Spotlight Series: Lindsey Barnhart
June 15, 2018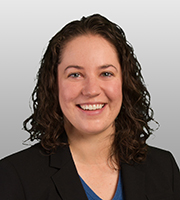 Lindsey Barnhart is a class actions and commercial litigator in Palo Alto whose matters have included consumer protection, breach of contract, and intellectual property claims in the e-commerce, consumer goods, financial services, and sports industries.
Lindsey also maintains an active pro bono practice and has dedicated a significant portion of her time to protecting the rights of LGBT+ people. She is also involved in various LGBT+ organizations in the Bay Area, including Lesbians Who Tech and the National Center for Lesbian Rights. Prior to joining Covington, Lindsey was the co-President of OutLaw, the LGBT+ student organization at Stanford Law School.
You have handled a number of pro bono matters focused on LGBT+ issues. How have you drawn on your litigation experience at Covington and your own background in those cases?
I am thankful to have had the opportunities and support at Covington to develop a pro bono practice tailored to my personal interest in LGBT+ issues. Most recently, I had the honor of representing an elementary school student and her parents in civil rights litigation in California state court alleging that the student's former school discriminated against her based on her gender identity. This case allowed me to apply the litigation skills I've gained at Covington to advocate for LGBT+ youth, a cause that is near and dear to me.