Our Website Uses Cookies
We and the third parties that provide content, functionality, or business services on our website may use cookies to collect information about your browsing activities in order to provide you with more relevant content and promotional materials, on and off the website, and help us understand your interests and improve the website.
For more information, please contact us or consult our Privacy Notice.
Your binder contains too many pages, the maximum is 40.
We are unable to add this page to your binder, please try again later.
This page has been added to your binder.
#CovHasPride Spotlight Series: Christopher Hanson
June 6, 2018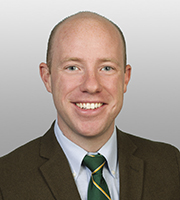 Resident in Covington's Washington office, Christopher Hanson is a member of the firm's Food, Drug, and Device Practice Group. He advises international and domestic clients on regulatory strategies and compliance for medical devices, clinical laboratories, radiation-emitting electronic products, pharmaceuticals, and biologics. He is the current Co-Chair of the Medical Device Law Committee of the American Bar Association and author of the introductory chapter in the forthcoming Practising Law Institute's treatise, "Medical Devices Law and Regulation Answer Book" (6th Edition).
Christopher has extensive experience counseling clients on interactions with regulatory agencies, including the U.S. Food and Drug Administration (FDA) and the Centers for Medicare and Medicaid Services (CMS). He also pursues extensive pro bono work related to the LGBT+ community, which has included representing the ACLU in litigation involving transgender military service members and Whitman-Walker Health in regulatory advocacy before FDA. Christopher is an active firm member having served twice as Vice Chair of Covington's Summer Associate Program in the Washington office. Before joining Covington, he was as an LGBT+ residential advisor at Harvard College and a Point Foundation LGBT Scholar at Northwestern Law.
As a member of the firm's Food, Drug, and Device Practice Group, how do you draw connections between your practice and LGBT+ pro bono work?
I regularly assist our clients with preparing public comments for FDA rulemakings, guidance documents, and advisory committees as well as drafting state, federal, and foreign legislation. Since 2014, I have drawn upon that experience to represent our pro bono client, Whitman-Walker Health, in interacting with FDA concerning blood donation policies that affect the greater LGBT+ community. We have helped Whitman-Walker in preparing several sets of public comments for draft guidance documents and Federal Register notices. During this time period, we have seen FDA transition from an indefinite blood donation deferral policy for men who have sex with men (MSM) to a one-year policy. We continue to work with Whitman-Walker and FDA in addressing the need to further revise existing blood donation policies. I am incredibly thankful that I get to use the same skills I have honed as a lawyer in Covington's Food, Drug, and Device Practice Group as in my pro bono advocacy work with Whitman-Walker.