Our Website Uses Cookies
We and the third parties that provide content, functionality, or business services on our website may use cookies to collect information about your browsing activities in order to provide you with more relevant content and promotional materials, on and off the website, and help us understand your interests and improve the website.
For more information, please contact us or consult our Privacy Notice.
Your binder contains too many pages, the maximum is 40.
We are unable to add this page to your binder, please try again later.
This page has been added to your binder.
Diversity Speaker: Sandra Leung
January 11, 2018
Fostering a workplace that is both broadly diverse and powerfully inclusive starts with intentional leadership from the top, says Sandra Leung, Executive Vice President and General Counsel at Bristol-Myers Squibb.

To ensure employees can "bring their whole selves to work" requires not only a commitment from senior leaders, but also accountability, she emphasized.

Ms. Leung recently spoke at Covington's Washington office as part of the firm's Diversity Speaker Series.

After being introduced by Covington partner Jennifer Zachary, Ms. Leung and Covington partner Michael Labson discussed the importance and numerous benefits of diversity and inclusion in the legal profession.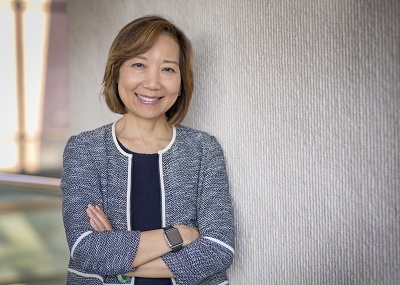 Ms. Leung emphasized Bristol-Myers Squibb's strong commitment to diversity and the company's core belief that D&I is a business imperative. She explained that Bristol-Myers Squibb Chairman and CEO Giovanni Caforio takes diversity and inclusion very seriously and holds her and other members of his senior leadership team accountable for their efforts in driving diversity and inclusion throughout the organization.

The company also looks at opportunities to foster diversity and inclusion among the vendors they hire. Ms. Leung described an exciting diversity program that her team helped launch that pairs members of the Bristol-Myers Squibb legal team with lawyers from outside law firms to provide mentorship and executive coaching. In addition, the bio-pharma company invests in diversity training for all employees throughout the organization.

Prior to joining Bristol-Myers Squibb, Ms. Leung served as a prosecutor in the Manhattan District Attorney's Office where she was the first Asian-American woman hired to serve as an assistant district attorney.

She explained that while there was less sensitivity to diversity and inclusion earlier in her career, she took away wonderful lessons from her time as a prosecutor. Among other things, her experience at the DA's Office solidified her belief in the importance of having a clear sense of ethics and integrity in the workplace.

After the talk, Ms. Leung took questions from the audience.