Our Website Uses Cookies
We and the third parties that provide content, functionality, or business services on our website may use cookies to collect information about your browsing activities in order to provide you with more relevant content and promotional materials, on and off the website, and help us understand your interests and improve the website.
For more information, please contact us or consult our Privacy Notice.
Your binder contains too many pages, the maximum is 40.
We are unable to add this page to your binder, please try again later.
This page has been added to your binder.
#CovHasPride Spotlight Series: Matt DelNero
June 14, 2017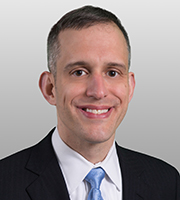 Matt DelNero is a partner in the firm's Communications and Media and Data Privacy and Cybersecurity Practice Groups. Resident in Washington, he represents clients across the telecommunications, technology, and media sectors.
Before rejoining the firm in January 2017, Matt served as Chief of the Wireline Competition Bureau at the Federal Communications Commission, where he worked with a dedicated team of civil servants to promote the deployment and adoption of broadband and other communications services throughout the U.S.
Matt has been active in efforts to improve LGBT+ rights since he was in law school, during which time he served as a law fellow at the Human Rights Campaign. In one of his very first pro bono projects in 2003-04, Matt was co-counsel with Lambda Legal in representing the same-sex partner of a 9/11 victim before the U.S. Victim Compensation Fund. He's continued to bring that passion for equality to Covington, through legal recruiting, firm committee, mentoring, and other responsibilities.
You made a career at Covington before leaving to join the FCC in early 2014. Having returned three years later, what do you see having changed in terms of initiatives towards LGBT+ equality?
Covington long has been an institution that recognizes the importance of equality in all its forms, and that hasn't changed. (My husband and I benefited from this when the firm represented a coalition in defense of equality legislation here in D.C. in 2010.) Since returning to the firm, I've been pleased to see even greater focus on transgender rights, with the firm doing more and more important pro bono work in this area. I've also been pleased to see a more active LGBT+ affinity group within the firm, which holds various social outings and gatherings throughout the year. A lot of the energy for that comes from our LGBT+ associates, which is a wonderful thing.