Our Website Uses Cookies
We and the third parties that provide content, functionality, or business services on our website may use cookies to collect information about your browsing activities in order to provide you with more relevant content and promotional materials, on and off the website, and help us understand your interests and improve the website.
For more information, please contact us or consult our Privacy Notice.
Your binder contains too many pages, the maximum is 40.
We are unable to add this page to your binder, please try again later.
This page has been added to your binder.
#CovHasPride Spotlight Series: Jean Veta
June 21, 2017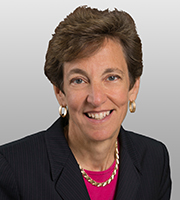 Jean Veta is a nationally recognized banking and financial regulatory enforcement litigator. Resident in the firm's Washington office, Jean regularly defends financial institutions and their officers and directors in civil and regulatory enforcement matters, government investigations, internal corporate investigations, and congressional investigations.
Jean is a member of Covington's Diversity Committee, as well as the U.S. Leadership Committee of Out Leadership, a global organization that brings together senior and emerging leaders from the world's most influential investment banks, corporations, and law firms to promote LGBT+ inclusive practices. She also maintains an active pro bono practice, with a particular focus on matters affecting the LGBT+ community.
You have worked on a range of issues including marriage equality and legal protections for transgender students. How do you think society, and Covington, can continue to advance LGBT+ rights?
We all need to stay involved. We need to continue to work at the federal, state, and local level to achieve true equality for all LGBT+ members in every aspect of society, including employment, housing, and public accommodations.