Our Website Uses Cookies
We and the third parties that provide content, functionality, or business services on our website may use cookies to collect information about your browsing activities in order to provide you with more relevant content and promotional materials, on and off the website, and help us understand your interests and improve the website.
For more information, please contact us or consult our Privacy Notice.
Your binder contains too many pages, the maximum is 40.
We are unable to add this page to your binder, please try again later.
This page has been added to your binder.
Covington Associate Leads Catalyst Network Foundation Discussion and Tour
September 22, 2016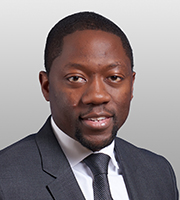 In conjunction with non-profit education initiative Catalyst Network Foundation (CNF), a group of high school students recently had the opportunity to gain first-hand experience learning about the legal profession through an interactive discussion and tour of Covington's Washington office.
Associate Cyril Djoukeng led a forum in which students had the opportunity to discuss their educational and career goals. Cyril spoke about his own academic and professional experiences with the group, and answered questions on a wide variety of topics, including preparing for college entrance tests, managing tuition, obtaining scholarships, excelling in college or vocational school, working in a professional or corporate environment, and finding mentors.
Following the discussion, Cyril led the students on a tour of the office, where they met and interacted with several of the firm's lawyers and professionals.
Facilitated by CNF, the discussion and tour were held as part of the organization's 2016 Summer Intensive Program for its Washington Fellowship Scholars. Based in New York and the nation's capital, CNF engages high-potential youth and veterans with successful projects by providing proper tools, networking, and development opportunities. Last year, Cyril and fellow Covington associate Amia Trigg also participated in a similar event at the firm for another group of promising high school students.