Our Website Uses Cookies
We and the third parties that provide content, functionality, or business services on our website may use cookies to collect information about your browsing activities in order to provide you with more relevant content and promotional materials, on and off the website, and help us understand your interests and improve the website.
For more information, please contact us or consult our Privacy Notice.
Your binder contains too many pages, the maximum is 40.
We are unable to add this page to your binder, please try again later.
This page has been added to your binder.
Associate Neema Sahni Moderates Sports and Entertainment Law Panel at SABA North America's 2016 National Convention
May 15, 2016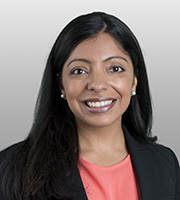 Neema Sahni, a litigation associate in Covington's Los Angeles office, participated in SABA North America's 2016 National Convention. SABA North America connects South Asian lawyers and communities across the continent and serves as a forum for professional growth and advancement.
A member of the South Asian Bar Association of South California, Neema organized and moderated a panel titled: "The Art of Deal-Making in Sports and Entertainment." Neema was joined by her former colleague, Umar Hussain, Manager of Global Distribution Strategy for the Disney & ESPN Media Networks, Samir Mayur, the Director of Business Development for the Houston Astros, and Houston-based solo practitioner, Tony Wadhawan of The Wadhawan Firm.
Neema commented: "The panel was very well-received, likely due to the diversity of perspectives among the panelists. We also discussed particularly timely topics, like how to contract for certainty in long-term media rights deals when the technology is rapidly evolving, with viewers now consuming sports and entertainment content in ways that could never have been anticipated five years ago.
Mythili Raman, partner in Covington's White Collar practice, spoke at a plenary lunch panel on "Defending High Risk Cases: The Cases Get Bigger and The Risks Get Worse." Neema concluded: "That panel was among the highlights for me. The lineup of panelists was extraordinary; their deep knowledge and experience defending and prosecuting high-stakes matters was evident to all who attended. And I was particularly pleased to see Covington well-represented at the convention."
She added, "I'm glad to be a part of SABA North America and my local Southern California chapter. The organization serves a critical role in connecting lawyers in our community, promoting diversity in the legal profession and offering a voice for the South Asian bar nationwide. I look forward to next year's convention in Washington, D.C., where we hope to once again organize a panel on sports and entertainment law."
To read more about SABA North America, the annual convention, and the bar association's other initiatives and advocacy efforts, please click here.