Our Website Uses Cookies
We and the third parties that provide content, functionality, or business services on our website may use cookies to collect information about your browsing activities in order to provide you with more relevant content and promotional materials, on and off the website, and help us understand your interests and improve the website.
For more information, please contact us or consult our Privacy Notice.
Your binder contains too many pages, the maximum is 40.
We are unable to add this page to your binder, please try again later.
This page has been added to your binder.
The ELC honors Eric Holder at Annual Gala
October 8, 2015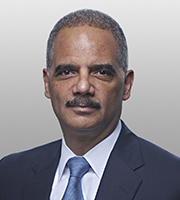 The Executive Leadership Council awarded Eric Holder, a partner at Covington & Burling, "The Global Game Changer Award" at their Annual Recognition Gala.
The ELC presents the Global Game Changer Award to a distinguished global leader who has upheld a transformational and impactful leadership. Eric Holder, the first African American and longest serving Attorney General in the United States, was recognized globally for his strides in regulatory enforcement, criminal justice, and national security.
In his acceptance speech, Eric said that "This is a country in the midst of the most sweeping demographic change in perhaps its history…If America embraces this change we are about to experience and make available opportunities to all people of talent, and eradicate barriers rooted in the darkest parts of our history, then the coming century can be another era of American dominance."
Phyllis Jones, a partner in Covington's litigation practice, attended the gala and commented that the event "celebrated the commitment of individuals and organizations taking the lead in promoting diversity initiatives."
Corporate partner Catherine Dargan also attended the event and stated: "the Gala was an amazing event honoring students, executives and companies who have undertaken efforts to promote inclusion and diversity in executive leadership initiatives designed to expand the pool of the next generation of diverse leaders in corporate America."
The ELC hosts this annual gala to celebrate various corporations, entrepreneurs, and academics for their commendable efforts and support in diversity.
Read more about the Gala and The ELC.