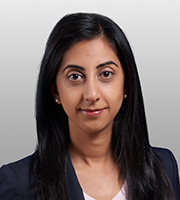 Meena Sharma has significant experience with cross-border trade/investment and national security issues, representing clients in national security reviews before the Committee on Foreign Investment in the United States (CFIUS) and assisting clients on the application of international trade controls, including export controls and economic sanctions. Ms. Sharma's regional focus areas include China, where she previously worked, and India.
On investment and national security issues, Ms. Sharma regularly represents U.S. and foreign companies from a range of industries (including defense, energy, aviation, and information technology) in securing the approval of CFIUS. She also has negotiated national security agreements and assurances with the U.S. government as well as assisted clients with ongoing compliance matters related to mitigation agreements with CFIUS.

In the area of international trade, Ms. Sharma counsels companies on US export control regulations administered by the State Department's Directorate of Defense Trade Controls (DDTC) and the Commerce Department's Bureau of Industry and Security (BIS) as well as economic sanctions administered by the Treasury Department's Office of Foreign Assets Control (OFAC). Ms. Sharma has led internal investigations and assisted companies in filing voluntary self-disclosures with DDTC, BIS and OFAC. She also frequently advises on trade control issues in mergers, acquisitions, and divestitures.