Our Website Uses Cookies
We and the third parties that provide content, functionality, or business services on our website may use cookies to collect information about your browsing activities in order to provide you with more relevant content and promotional materials, on and off the website, and help us understand your interests and improve the website.
For more information, please contact us or consult our Privacy Notice.
Your binder contains too many pages, the maximum is 40.
We are unable to add this page to your binder, please try again later.
This page has been added to your binder.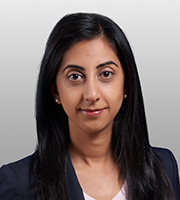 Meena Sharma has significant experience with cross-border trade/investment and national security issues, representing clients in national security reviews before the Committee on Foreign Investment in the United States (CFIUS) and assisting clients on the application of international trade controls, including export controls and economic sanctions. Ms. Sharma's regional focus areas include China, where she previously worked, and India.
On investment and national security issues, Ms. Sharma regularly represents U.S. and foreign companies from a range of industries (including defense, energy, aviation, and information technology) in securing the approval of CFIUS. She also has negotiated national security agreements and assurances with the U.S. government as well as assisted clients with ongoing compliance matters related to mitigation agreements with CFIUS.

In the area of international trade, Ms. Sharma counsels companies on US export control regulations administered by the State Department's Directorate of Defense Trade Controls (DDTC) and the Commerce Department's Bureau of Industry and Security (BIS) as well as economic sanctions administered by the Treasury Department's Office of Foreign Assets Control (OFAC). Ms. Sharma has led internal investigations and assisted companies in filing voluntary self-disclosures with DDTC, BIS and OFAC. She also frequently advises on trade control issues in mergers, acquisitions, and divestitures.
CFIUS
Align Aerospace ‒ sale to Aviation Industry Corporation of China (AVIC)

Carlyle Group ‒ multiple transactions

Dassault Systèmes ‒ acquisition of Accelrys, Inc.

Intersil Corporation ‒ sale to Renesas Electronics Corporation

Nexen ‒ acquisition by China National Offshore Oil Corporation Ltd.

Schneider Electric ‒ acquisition of Invensys plc


Wanxiang America ‒ acquisition of certain assets of A123 Systems, Inc., and divestiture of Energy Solutions Business of A123 Systems to NEC Corp.
International Trade
Assist major public and private companies, including Fortune 100 companies, in internal investigations and disclosures to the US government with respect to compliance with the ITAR, EAR and OFAC regulations.
Develop comprehensive anti-corruption and international trade compliance programs, including for leading Indian conglomerate.
Completed full-time on-site secondment with major defense contractor managing internal investigations and voluntary disclosures to DDTC and BIS regarding compliance with the International Traffic in Arms Regulations (ITAR) and Export Administration Regulations (EAR).
Advise on developments in economic and trade policies involving China, including the US-China Bilateral Investment Treaty.
Advise on US nuclear energy regulations and policies on nuclear energy cooperation.
Advise clients in various industries on Congressional outreach strategies in connection with cross-border transactions.
Represent owner of luxury brands in coordinating with US Customs and Border Protection on combatting trade in counterfeit products.
Advise and represent national nonprofit organization in litigation against the federal government concerning compliance with Title V of the McKinney-Vento Homeless Assistance Act.
Advise international organization dedicated to food security on establishing a research center in China.
U.S. Senate Committee on Finance, Law Clerk
U.S. District Court for the Southern District of New York, Honorable Kimba M. Wood, Judicial Intern