Our Website Uses Cookies
We and the third parties that provide content, functionality, or business services on our website may use cookies to collect information about your browsing activities in order to provide you with more relevant content and promotional materials, on and off the website, and help us understand your interests and improve the website.
For more information, please contact us or consult our Privacy Notice.
Your binder contains too many pages, the maximum is 40.
We are unable to add this page to your binder, please try again later.
This page has been added to your binder.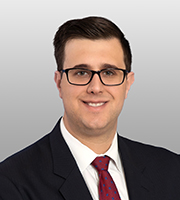 Jack Lund is an associate in the firm's Washington, DC office where he is a member of the Employee Benefits and Executive Compensation practice group. Mr. Lund advises clients on all aspects of employee benefits including tax-qualified retirement plans, health and welfare plans, Individual Retirement Arrangements, global incentive plans, executive compensation, ERISA litigation, and corporate transactions. In so doing, Mr. Lund is particularly adept at crafting strategies that solve his clients' most difficult regulatory and legislative problems.
Promoted client interests before the Department of Labor, Department of Treasury (including before IRS), and Congress (including before Joint Committee on Taxation).
Drafted restatements, plan amendments, summary plan descriptions, and summaries of material modification for tax-qualified retirement plans, health and welfare plans, and executive compensation arrangements (including large non-qualified plans).
Advised clients and plan administrators on day-to-day operations, claim and benefit administration (including drafting claim denial letters), plan interpretation, governance, and other matters.
Drafted Congressional testimony for major trade association discussing regulatory barriers created by Department of Labor and IRS policy with respect to so-called "missing" or "lost" participants.
Designed legislative proposals for IRA reform.
Assisted clients with responses to DOL audits.
Submitted comments and drafted testimony on proposed DOL rulemaking.
Represented plan-sponsor clients in ERISA litigation.
Advised on employee benefits and executive compensation issues in large corporate transactions.
Facilitated the ethical and tax efficient transition of an executive into a key governmental position.
Counseled clients on compliance of their non-qualified plans with Section 409A of the Internal Revenue Code including advising a Fortune 100 company on the design and implementation of a state-of-the-art 409A specified employee policy.
Advised several companies on top-hat filings for non-qualified plans.
Counseled a Fortune 100 company on avoiding pitfalls associated with the creation of an "accidental" MEWA.
Contributed to feasibility studies on global compliance.
Represented a tenured professor in a dispute with a university employer.
Advised a non-profit organization on return-to-work considerations during a worldwide pandemic.
Advised a non-profit organization on an employment agreement with its chief executive officer.
Represented civil liberties organizations as amici curiae before the Supreme Court of the United States.
Represented a religious institution in a RLUIPA appeal before the United States Court of Appeals for the Sixth Circuit and the Supreme Court of the United States.
Memberships and Affiliations
United States Senate Committee on Finance, Law Clerk
Education
University of Virginia School of Law, J.D., 2016
Journal of Law & Politics, Submissions Editor
Harvard Journal of Law and Public Policy, Executive Editor
University of Virginia, B.A., 2012