Your binder contains too many pages, the maximum is 40.
We are unable to add this page to your binder, please try again later.
This page has been added to your binder.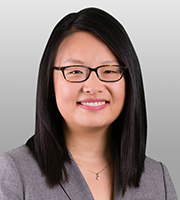 Mingham Ji is an associate in the firm's Washington, DC office, where she is a member of the Food and Drug and Anti-Corruption practice groups. Ms. Ji advises food, dietary supplement, pharmaceutical, and biotechnology companies on regulatory and compliance issues. She is also a regular contributor to the InsideMedicalDevices blog.
Counsel multinational food company in its responses to inquiries about its products from FDA, Congress, and local and foreign governments.
Assisted biotechnology company and trade organization in drafting comments on FDA draft guidance for biosimilars.
Assisted pharmaceutical company in drafting citizen petition to FDA on therapeutic equivalence rating for generic version of an innovator product.
Advise food and dietary supplement companies on compliance with FDA's labeling requirements.
Advise pharmaceutical companies on anti-kickback and related fraud and abuse issues.
Conduct anti-corruption due diligence of life sciences companies.
Provide legal information on landlord/tenant issues through the DC Bar Pro Bono Program's Landlord-Tenant Resource Center.