Our Website Uses Cookies
We and the third parties that provide content, functionality, or business services on our website may use cookies to collect information about your browsing activities in order to provide you with more relevant content and promotional materials, on and off the website, and help us understand your interests and improve the website.
For more information, please contact us or consult our Privacy Notice.
Your binder contains too many pages, the maximum is 40.
We are unable to add this page to your binder, please try again later.
This page has been added to your binder.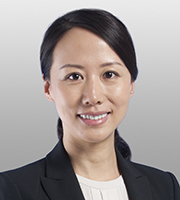 Min He has extensive experience handling anti-corruption/FCPA investigations, compliance risk assessments, pre-transaction compliance due diligence, anti-corruption compliance programs and training. Her experience spans a range of industries including life science, financial services, technology, energy, entertainment, gaming, and aviation. She also advises companies on securities class actions involving China-based companies listed in the United States and on arbitrations arising out of private equity investment and M&A activities in China.
Conducting numerous internal investigations in connection with potential violations of the Foreign Corrupt Practices Act (FCPA) and Chinese anti-corruption laws.
Assisting a major U.S. pharmaceutical company with a compliance audit of its joint venture in China and advising the company on compliance controls and remedial actions.
Developing compliance programs and conducting compliance trainings for the Chinese subsidiaries of multiple companies listed in the U.S. and Europe.
Advising a major state-owned conglomerate on FCPA and Chinese anti-corruption law issues in connection with a proposed joint venture with a leading U.S. private investment firm.
Assisting a major U.S. pharmaceutical company with anti-corruption due diligence in connection with an acquisition of a local company in China.
Advising multiple U.S. and European companies on Chinese anti-corruption law issues in connection with proposed corporate sponsorship, promotional activities and other corporate events.
Handling a HKIAC arbitration arising out of disputes over shareholders' agreement.
Advising an investor in a CIETAC arbitration arising out of a private equity investment.
Advising a China-based agricultural company in multiple securities class actions and a U.S. shareholder derivative action.
Education
University of Pennsylvania Law School, J.D.
Northwestern University School of Law, LL.M.
University of International Business and Economics School of Law
Beijing Wuzi University, B.A.