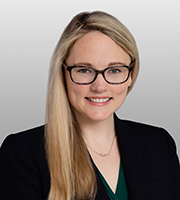 Samantha Clark practices in the firm's Public Policy Practice Group as well as the CFIUS and Government Contracts groups. Ms. Clark provides advisory and advocacy support to clients facing policy, political, and regulatory challenges in the aerospace, defense, and national security sector.
Before joining the firm, Ms. Clark served in a number of senior staff positions on the U.S. Senate Armed Services Committee, most recently as Deputy Staff Director and General Counsel. In this role, she managed the passage of the National Defense Authorization Act (NDAA), the annual defense policy bill that authorizes the Defense Department's $700 billion budget. The Secretary of the Navy awarded Ms. Clark the Department of the Navy Distinguished Public Service Award for her "exceptional service to the Department of the Navy as Deputy Staff Director of the Senate Armed Services Committee."
Ms. Clark is a member of the Bar of Arizona. District of Columbia bar application pending; supervised by principals of the firm.