Our Website Uses Cookies
We and the third parties that provide content, functionality, or business services on our website may use cookies to collect information about your browsing activities in order to provide you with more relevant content and promotional materials, on and off the website, and help us understand your interests and improve the website.
For more information, please contact us or consult our Privacy Notice.
Your binder contains too many pages, the maximum is 40.
We are unable to add this page to your binder, please try again later.
This page has been added to your binder.
Stephen R. Bond
Senior Of Counsel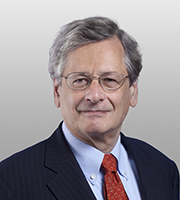 Stephen Bond is senior of counsel in the firm's London office, specializing in international commercial arbitration. He has served as an advocate or arbitrator in well over one hundred international arbitrations under the rules of the International Chamber of Commerce, the London Court of International Arbitration, the Stockholm Arbitration Institute, the Japanese Commercial Arbitration Association, the Vienna Centre, and UNCITRAL. Mr. Bond's experience includes disputes in the energy, international joint venture, defense construction, technology, sales and distribution fields.
Representation of a major Russian entity in three arbitrations in Vienna, two administered by the International Arbitration Centre of the Austrian Federal Economic Chamber and one ad hoc, all governed by Russian law and the UNCITRAL rules, and all relating to the Russian oil industry.
Representation of a Belgian company in an arbitration in London governed by Indian substantive law relating to a dispute in the power sector in Southeast Asia.
Representation (as co-counsel) of a European telecommunications company against multiple respondents in a dispute arising out of a project in Eastern Europe.
Representation of a Belgian construction company in an arbitration in Cyprus governed by Yemeni substantive law.
Representation of an Indonesian telecommunications company in an arbitration in Geneva under a contract governed by Indonesian law concerning disputes in the telecommunications sector in Indonesia.
Representation of a European metals company in an arbitration brought by a US mining company relating to disputes concerning the performance and termination of a refining agreement governed by Swiss law.
Representation of respondents in an arbitration in London initiated by a major international gold company in relation to the sale by our clients to the Claimant of their shares of a company operating a gold mine in Africa. Belgian law was applicable.
Representation of a European bank as claimant in an arbitration in London under English substantive law against a major American software supplier. In the midst of the arbitration, the parties engaged in a successful mediation under CEDR auspices.
Chairman, party appointed arbitrator, and sole arbitrator in numerous arbitrations under most major international arbitration rules.
Memberships and Affiliations
Panels of Arbitrators and Other Affiliations
Paris Bar (1992-2008)
Chartered Institute of Arbitrators (Fellow)
Institute for Transnational Arbitration (Advisory Board Member)
ICC Commission on International Commercial Arbitration
World Arbitration and Mediation Report (Advisory Board Member)
American Arbitration Association (International Panel)
Australian Centre for International Commercial Arbitration
Court of Arbitration at the Polish Chamber of Commerce
Hong Kong International Arbitration Centre
International Development Law Organization
International Institute for Conflict Prevention & Resolution ("CPR"), International Panel of Distinguished Neutrals
Korean Commercial Arbitration Board
Singapore International Arbitration Centre
U.S. Council for International Business (ICC National Committee in US)
Partner in and then co-head of the International Arbitration Practice Group of a major international law firm (1993-2008).
International Chamber of Commerce, Secretary General of the International Court of Arbitration (1985-1991)
ICC International Court of Arbitration, U.S. Member (1994-1999)
Vice Chairman of the ICC Working Group that drafted the 1998 ICC Rules of Arbitration.
Office of the Legal Adviser of the Department of State, Assistant Legal Adviser (1974-1980)
United States Mission to the United Nations in Geneva, Counselor for Legal Affairs.
Law practice in New York and Paris and clerking in the Federal District Court for the Eastern District of New York (1968-1973).
Global Arbitration Review and Who's Who Legal: Arbitration, "Leading lawyers worldwide in the field of arbitration" (2018)
U.S. State Department's Distinguished Honors Award
Who's Who Legal recognized Mr. Bond as one of the 20 "most highly regarded individuals" for commercial arbitration (2009).
He has been described as being "faultless on points of law," an "effective and thorough advocate" possessed of "utter professionalism" (Chambers Global 2003-2004, 2004-2005), "absolutely first rate", "one of the best you'll ever work with," "one of the finest arbitrators in England", "phenomenal", "'revered' by many of the lawyers we spoke to" (Who's Who Legal 2007, 2011 and 2012), as having "a very practical approach to the most complex disputes," as offering "valuable insights into the world of international arbitration" (Chambers UK 2014), and "an excellent strategist and a consummate advocate" (Legal 500 2011).
Chambers Global
Chambers Europe
Chambers UK (2010-2017)
The Practical Law Company (PLC) - Which Lawyer?
Legal 500 UK, International Arbitration (2009-2013, 2015-2016)
Legal 500 EMEA
The International Who's Who of Arbitration Lawyers (2010-2016)
Judicial Clerkship
Hon. Anthony J. Travia, U.S. District Court, Eastern District of New York, 1968 - 1969