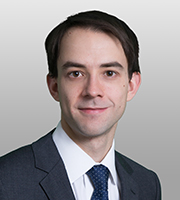 Sam Adriance focuses his practice at the intersection of technology and financial services. He helps clients navigate complex regulatory frameworks as they apply to innovative technologies, including data aggregation, cryptocurrencies, fintech lending, mobile applications, and cloud computing. He is a member of Covington's Financial Services, Data Privacy and Cybersecurity, and White Collar groups.
Mr. Adriance represents clients – whether in enforcement, transactional/licensing, or policy matters – before virtually all the major U.S. financial regulators, including the Federal Reserve, OCC, FDIC, CFPB, CFTC, SEC, FTC, and NYSDFS. He also represents financial institutions in DOJ criminal investigations.
In addition, he maintains a robust regulatory advisory and compliance practice, in which he provides subject-matter expertise on transactional and litigation matters, and advises clients on cutting-edge regulatory issues. His substantive areas of focus include: data privacy and cybersecurity; consumer financial services; futures and derivatives; anti-money laundering; and the application of traditional prudential regulation to new technologies.
Mr. Adriance also regularly litigates pro bono cases, with a particular focus on the Fair Housing Act.