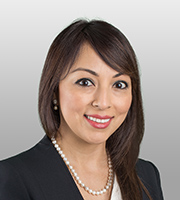 Mónica Ramírez Almadani practices in Covington's White Collar Defense and Investigations practice group. She advises and represents clients in sensitive, high-stakes internal investigations, government enforcement matters, and commercial litigation.
Ms. Almadani has significant experience managing complex and sensitive legal and policy issues, as well as supervising federal and state criminal and civil investigations and litigation. Prior to joining the firm, Ms. Almadani served as a Special Assistant Attorney General and Senior Advisor to former California Attorney General and U.S. Senator Kamala D. Harris. As a member of the Attorney General's senior management team, Ms. Almadani assisted the Attorney General in formulating and implementing California Department of Justice policies and advised on significant legal questions facing the State. She also served as liaison to the Department's Civil Rights Division and Criminal Division, overseeing investigations and enforcement actions, including cases involving public corruption and financial fraud brought by the Financial Fraud and Special Prosecutions Section.
As a former Assistant U.S. Attorney for the Central District of California, Ms. Almadani prosecuted federal criminal matters from investigation through indictment, discovery, plea negotiations, motions, trial, sentencing, and appeal. She served in the office's Public Corruption and Civil Rights Section and, during her tenure as a prosecutor, first-chaired multiple successful trials and argued and briefed several appeals before the Ninth Circuit Court of Appeals.
Ms. Almadani's government experience extends even more broadly, having served in senior positions at the U.S. Department of Justice in Washington, DC. She first served from 2009-2011 as Counsel to then Assistant Attorney General (and future U.S. Secretary of Labor) Thomas E. Perez in the Civil Rights Division, where she advised on immigration, education, and police practices litigation and policy. Ms. Almadani subsequently served from 2011-2012 as Deputy Chief of Staff and Senior Counsel to former U.S. Deputy Attorney General James M. Cole. As a senior attorney in the Deputy Attorney General's Office, she worked on several high profile and sensitive congressional investigations and complex litigation of national significance, including cases before the U.S. Supreme Court.
Ms. Almadani started her legal career as a staff attorney with the national legal department of the American Civil Liberties Union (ACLU), where, for several years, she led and participated in numerous precedent-setting cases of constitutional magnitude. At the ACLU, Ms. Almadani also led significant legal, policy, and advocacy initiatives and authored congressional testimony in support of the civil and constitutional rights of immigrants and non-citizens.