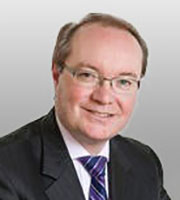 With more than 30 years of experience in UK, European, and Asian financial markets, John Ahern advises banks, multilateral trading facilities, broker-dealers, asset managers, and investment advisors on regulatory challenges. He offers clients deep knowledge of how regulators in different jurisdictions approach compliance and enforcement issues and helps them operate in compliance with financial regulations, while also maximizing opportunities.
Mr. Ahern's practice focuses on the regulation of banks and other financial institutions by the EU and UK prudential and conduct regulators. He regularly advises on various EU regulations that were developed in the aftermath of the 2008 financial crisis, including MiFID II, the Market Abuse Directive II, the Payment Services Directive II, and the EU's EMIR regulation in relation to futures and derivatives. He has a particular focus on prudential regulation of banks and investment firms and frequently advises on the EU Capital Requirements Regulation and related regulatory measures. Mr. Ahern's practice involves advice to asset management and private fund clients on AIFMD, custody arrangements, brokerage, clearing and trading, and payment systems. Mr. Ahern also has experience representing individuals in UK Financial Conduct Authority (FCA) compliance and enforcement matters.
Mr. Ahern previously served as in-house counsel for a global investment bank, and he draws on this understanding of financial business operations in advising clients.