Our Website Uses Cookies
We and the third parties that provide content, functionality, or business services on our website may use cookies to collect information about your browsing activities in order to provide you with more relevant content and promotional materials, on and off the website, and help us understand your interests and improve the website.
For more information, please contact us or consult our Privacy Notice.
Your binder contains too many pages, the maximum is 40.
We are unable to add this page to your binder, please try again later.
This page has been added to your binder.
#CovLatinx Spotlight Series: Laura Torre
September 22, 2020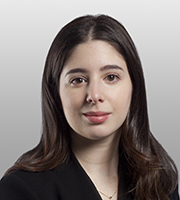 Resident in our New York office, Laura Torre is an associate in the firm's Corporate practice. Ms. Torre has represented clients in a broad range of corporate transactions, including mergers and acquisitions, private equity transactions, joint-ventures, financings and securities offerings. Additionally, Ms. Torre has significant experience in representing Latin American clients in various cross-border transactions.
You were recently named by the American Lawyer as one of the "2020 Dealmakers of the Year." What did it mean to you to receive this accolade?
I was incredibly humbled by the honor! The transaction that was highlighted for the award was truly a team effort - we had so many amazing individuals pitch in to help, and we couldn't have done it without them. It was a master-class in Covington collaboration.
You participate in several of the firm's affinity groups. What benefits do these groups provide to their members?
Being part of an affinity group has been very rewarding. We all come to the table with different backgrounds and experiences, so it's reassuring to know that there are others that have been through similar challenges, who we can speak with openly and ask for advice.
I believe that it is very important to have affinity groups that you can "come home to" and feel a part of, especially in the context of working life and within an organization with so many moving parts like a law firm. They help to cement a sense of community and belonging.
How have you benefited from mentors during your career and what advice would you have for law firm associates wishing to develop productive mentoring relationships?
During my career, mentors have been tremendously helpful to ask questions of, run ideas by, or just talk to about the challenges I'm facing. I value knowing that I am being heard and that someone is in my corner. Feeling like someone is invested in my career and in me as a person has allowed me to grow professionally, and also personally.
Mentorship is often thought of as a "top-down" relationship, but I would encourage associates to look for mentors with open minds - in colleagues both senior and junior - with a view towards what they can learn from each other. The challenge is often in the asking - we must speak up to ask questions or request feedback - and it can be scary to do so, because we so often equate "I don't know" with "I should know and therefore I have failed already." Law is a practice, which means it requires practice: not knowing something is part of the process of learning.
In the ethos of learning by doing: seek out to be a mentor too! Being a mentor to others has helped me see areas for improvement in myself, including how to be a better mentee for my mentors.