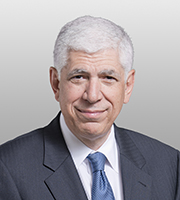 Bob Matthews is an environmental attorney with four decades of experience representing clients in litigation, counseling, and public policy matters across a broad spectrum of U.S. and international environmental laws and regulations.
Mr. Matthews has extensive environmental litigation experience, including major environmental tort claims, CERCLA cost recovery and contribution claims. He has also served as lead litigation counsel for numerous Superfund site joint defense groups.
Mr. Matthews has testified before Congress on efforts to reform the Toxic Substances Control Act and during reauthorization of the Clean Water Act. He provides legal and business-related advice and lectures frequently regarding the European Union's REACH Regulation. Mr. Matthews has served as special environmental counsel in major corporate and financial transactions.