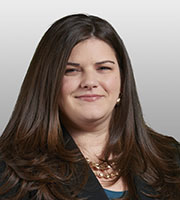 Adina Lord represents clients in strategic, high-value transactions, including debt financings, mergers and acquisitions, and complex commercial agreements, with a particular focus on transactions involving real estate or telecommunications. She also advises clients on general corporate and strategic matters, including corporate governance issues and SEC compliance issues. She has advised telecommunications clients on a wide range of corporate matters, from acquisitions and sales of FCC licenses and related stations, negotiations with cable and OTT distributors and complex arrangements related to the FCC's Incentive Auction of broadcast spectrum. Her real estate practice includes representation of local, national and international owners, developers, property managers, tax-exempt organizations and other users in all aspects of real estate transactions involving the acquisition, disposition, financing, management and leasing of office and other commercial buildings, tower and transmission broadcasting facilities, and manufacturing facilities.
Prior to joining the firm, Ms. Lord worked with the Committee on Codes of Conduct for the United States Judicial Conference, where she advised federal judges and judicial employees on recusal and ethical matters. Prior to earning her graduate degrees, she worked at The Brookings Institution, where she was the Senior Operations Manager for the Controller, focusing on internal change management issues, enterprise resource planning software implementation, charitable registrations and tax exemption applications. Ms. Lord also previously managed executive education programs for federal government employees at the Brookings Center for Executive Education.
Ms. Lord is admitted to the California and District of Columbia bars.